Pakistani saag aloo recipe
A traditional, comforting winter warmer. Have it as a main or serve as part of a larger meal.
Prep: 10 mins
Cook: 25 mins
Serves 4
Nutritional information

Per serving:

1,317kJ / 315kcal
14.5g protein
16.3g carbohydrate, of which 3.6g sugars
10g fat, of which 0.9g saturates
10.5g fibre
1.25g salt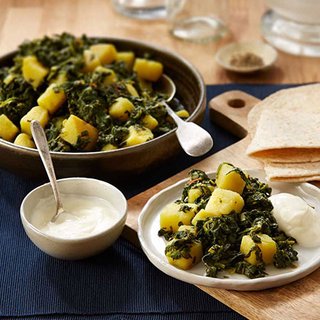 Ingredients
3 large bags (500g each) of baby spinach, washed and finely chopped
30ml rapeseed oil
1 large onion, finely chopped
1 teaspoon salt (optional)
6 garlic cloves, finely chopped
2 tomatoes, finely chopped
5 green chillies, finely chopped
0.5 teaspoon turmeric
1 teaspoon cumin seeds, or 1 heaped teaspoon of cumin powder
4 large potatoes, washed and cut into small cubes
Swap tip
To reduce the salt content of the dish, try swapping the salt for paprika or lemon juice.
Method
Heat the oil in a pan. Add the cumin seeds, chopped onion and garlic, and fry until softened and starting to brown.

Add the chopped tomatoes and green chillies, and cook for another minute. Turn the heat down, add the cumin powder (if using) and turmeric, mix well and fry for a further minute.

Add the potato, and then the spinach a minute or 2 later. Stir well to coat the potato and spinach in the spices, then cover the pan and leave to cook on low for 10 to 15 minutes, until the potato is soft. Stir occasionally to avoid sticking.

Remove the lid and turn the heat up. Once the rest of the water has evaporated, turn off the heat and leave to cool for a few minutes.

Information:

Serve with chapatis and plain yoghurt.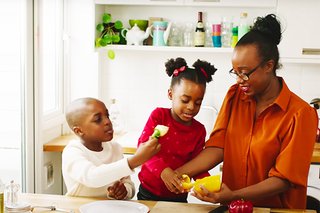 Get the family involved and make tasty meals from scratch!
Every week for 4 weeks you will get 2 healthy recipes – with videos, easy-to-follow instructions and a shopping list – straight to your inbox.