Pizza pitta faces recipe
Get the kids to help make these silly faces – they're such fun to eat!
Prep: 5 mins
Cook: 5 mins
Serves 4
Nutritional information

Per serving (1/4 recipe)

1,097kJ / 260kcal
11.2g protein
42.8g carbohydrate, of which 5.4g sugars
3.5g fat, of which 1.6g saturates
6.4g fibre
1g salt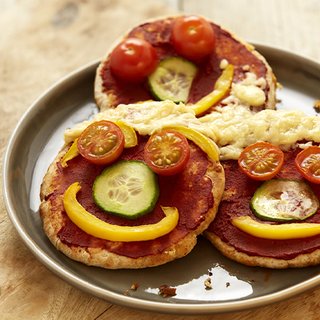 Ingredients
4 wholemeal pitta breads
4 teaspoons tomato purée
1 teaspoon dried mixed herbs
8 thin cucumber slices
6 cherry tomatoes, halved
1 yellow or red pepper, deseeded and sliced crossways
40g reduced-fat cheese, grated
Method
Preheat the grill. Or if you prefer, cook these in an oven preheated to 180C (fan 160C, gas mark 4) for 8-10 minutes.

Spread 1 teaspoon of tomato purée over one side of each pitta bread. Sprinkle with the dried mixed herbs.

Arrange the cucumber and halved tomatoes on the pittas to resemble eyes, halved tomatoes for the noses, the sliced pepper to look like eyebrows and mouths, and the grated cheese for hair or beards. Place on the grill rack.

Grill for 4 to 5 minutes. Cool for a few moments, then serve.

Information:

You could use white pitta breads, although the wholemeal ones give you more fibre.