Hot cheese and salsa turnovers recipe
A great idea for a quick, tasty light lunch that's just a bit different!
Prep: 10 mins
Cook: 10 mins
Serves 4
Nutritional information

Per serving:

1,123kJ / 267kcal
10.2g protein
35.6g carbohydrate of which 3.6g sugars
7.9g fat of which 3.7g saturates
520mg sodium equivalent to 1.3g salt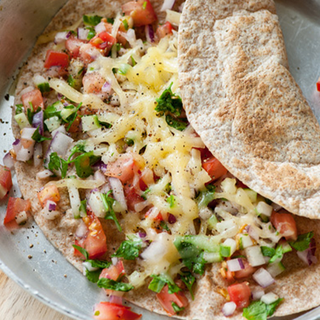 Ingredients
2 tomatoes, finely chopped
1 small red onion, peeled and finely chopped
quarter of a cucumber, finely chopped
1g finely chopped fresh coriander or parsley, or 1 teaspoon dried mixed herbs (optional)
1 teaspoon vegetable oil
4 soft wholewheat flour tortillas
60g reduced-fat hard cheese, grated
1 pinch ground black pepper
Method
In a bowl, make the salsa by mixing together the tomatoes, red onion, cucumber and coriander or parsley (if using).

Information:

Fire up the filling a little by adding half a teaspoon of finely chopped red or green chilli – or enough to suit your taste!

Heat a non-stick frying pan and add a few drops of vegetable oil. Add 1 of the tortillas and turn it in the pan so that its base is lightly oiled.

Sprinkle over a quarter of the salsa mixture, spreading it evenly across the surface. Then sprinkle a quarter of the cheese, and season with black pepper.

Cook over a medium heat for a couple of minutes, until the cheese starts to melt and the tortilla is lightly browned. Fold in half, set aside and keep warm.

Cook the remaining tortillas in the same way. Slice each in half and serve.

Information:

Next time, try using 4 or 5 chopped spring onions instead of red onion.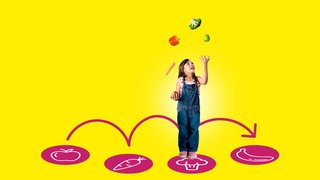 Want the recipe for a healthier family? Join today and over 8 weeks you'll get easy tips from nutrition experts and parents, healthy swaps and tasty recipes on a budget.