No-pastry mini mushroom quiches recipe
Light mini quiches without the pastry, served with a crunchy green salad.
Prep: 20 mins
Cook: 15 mins
Serves 4
Nutritional information

Per serving:

413kJ/99kcal
6.0g protein
3.0g carbohydrate, of which 2.7g sugars
6.7g fat, of which 1.4g saturates
1.7g fibre
0.2g salt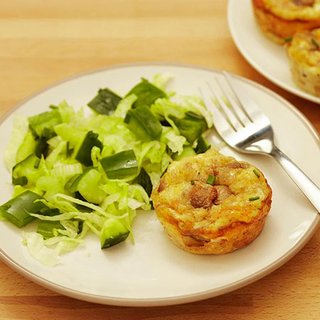 Ingredients
Quiches
1 teaspoon lower-fat spread to grease tin
1 tablespoon vegetable oil
100g button mushrooms, cut into quarters
1 small onion, finely chopped
2 eggs, beaten
50ml semi-skimmed milk
large pinch of black pepper
large pinch of nutmeg
10g reduced-fat cheddar, finely grated
To serve
quarter of an iceberg lettuce, shredded
half a green pepper, diced
1 celery stick, sliced
quarter of a cucumber, chopped
a few stems of fresh chives, chopped
Method
Grease the bottom and sides of 4 holes of a muffin tray. Cut 4 circles of baking paper and place in the bottom of each hole.

Heat the oil in a small frying pan, add the onions and cook for a couple of minutes until softened, then add the mushrooms and cook for a further few minutes. Transfer to the muffin tray.

Information:

Experiment with different vegetables – using 160g of thawed frozen vegetables instead of the mushrooms and onion saves time as there's no need to pre-cook them.

Mix the eggs with the milk, black pepper and nutmeg. Pour into the muffin tray and sprinkle on the cheese.

Bake in a preheated oven (180C, 160C fan, gas mark 4) for 15 minutes until risen and brown.

Leave in the tin to cool for 10 minutes. Remove by running a knife around the edge of the tin and then serve with the green salad.

Information:

Try them hot with some grilled tomatoes and toast for a delicious weekend brunch. These are also a good packed lunch option – just add some crusty bread.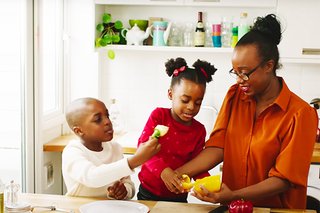 Get the family involved and make tasty meals from scratch!
Every week for 4 weeks you will get 2 healthy recipes – with videos, easy-to-follow instructions and a shopping list – straight to your inbox.