Chicken pizza naan recipe
These baked pizza-style mini naan taste so good topped with roast chicken.
Prep: 5 mins
Cook: 15 mins
Serves 4
Nutritional information

Per serving (1/4 recipe)

1,117kJ / 265kcal
20.9g protein
5.4g fat, of which 2.2g saturates
31.2g carbohydrate, of which 8.3g sugars
4g dietary fibre
0.8g salt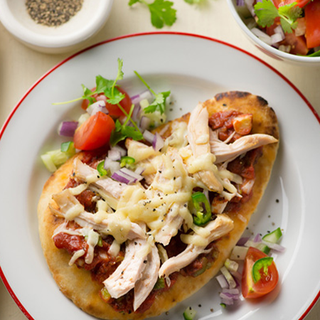 Ingredients
Topping
4 spring onions, chopped
400g chopped tomatoes
2 tablespoons tomato purée
2 teaspoons dried mixed herbs
4 reduced-fat mini naan breads
150g skinless, boneless roast chicken breast, sliced
50g grated reduced-fat hard cheese
Salad
12 cherry tomatoes, quartered
quarter of a cucumber, finely chopped
1 small red onion, finely chopped
1 teaspoon green chilli, finely chopped (optional)
1 tablespoon fresh coriander, chopped
Method
Preheat the oven to 200C (180C fan, gas mark 6).

Put the spring onions, tomatoes, tomato purée and mixed herbs into a saucepan over a medium heat. Cook for 5 to 8 minutes, stirring often, until reduced and thickened.

Arrange the naan on a baking sheet, divide the tomato mixture between them equally. Add the chicken, then sprinkle over the cheese. Bake for 5 to 6 minutes.

Information:

For a vegetarian version, just leave out the chicken.

Meanwhile, mix together the salad ingredients, and serve with the naan once ready.

Information:

Be sure to choose the healthier version of naan breads to keep the fat content lower.