Roast dinner recipe
Everyone thinks a roast takes a lot of effort but this recipe proves just how simple it can be. A bit of cooking time is all you need!
Prep: 20 mins
Cook: 90 mins
Serves 6
Nutritional information

Per serving:

2,197kJ / 525kcal
52g protein
48g carbohydrate, of which 14g sugars
15.5g fat, of which 5g saturates
11g fibre
0.5g salt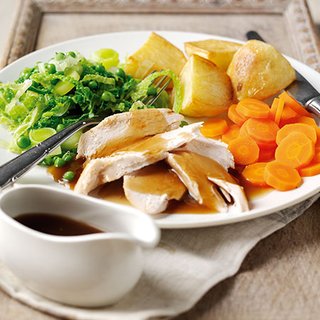 Ingredients
1 whole 2kg chicken
1.2kg potatoes, peeled and quartered
1 teaspoon vegetable oil
4 carrots, sliced
2 leeks, sliced
half a savoy cabbage, sliced
150g frozen peas
4 teaspoons reduced-salt gravy granules
Method
Preheat the oven to 190C (170C fan, gas mark 5). Put the chicken into a large roasting tin and roast in the centre of the oven for 90 minutes.

Information:

To add extra flavour, stuff the chicken with half an onion, half a lemon or a few garlic cloves.

Put the potatoes into a separate roasting tin and add the oil. Toss to coat, then roast on the oven shelf above the chicken for 60 minutes, turning after 30 minutes.

Start to cook the vegetables when the chicken is almost done. The carrots will take 10 to 15 minutes. The leeks, cabbage and peas will take 5 to 8 minutes when cooked together in a covered saucepan with a small amount of boiling water.

Check that the chicken is completely cooked by piercing the thickest part of the leg with a sharp knife or skewer – the juices should be clear if the chicken is done. Transfer to a carving board and cover the chicken with foil, allowing it to rest for 10 minutes before carving.

While the chicken is resting, make the gravy according to the pack instructions.

Serve 150g of chicken per portion, without skin. Serve with the roast potatoes, vegetables and gravy.