Perfect pasta and tomato sauce recipe
This quick and easy tomato sauce is the perfect mid-week meal – and it freezes brilliantly too!
Prep: 5 mins
Cook: 15 mins
Serves 4
Nutritional information

Per serving:

1,435kJ / 343kcal
12.5g protein
72g carbohydrate, of which 9g sugars
2.5g fat, of which 0.3g saturates
4g fibre
0.2g salt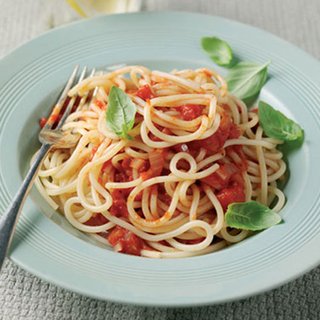 Ingredients
1 teaspoon olive oil
1 small onion, finely chopped
1 garlic clove, crushed or finely chopped
400g chopped tomatoes
2 tablespoons tomato purée
2 teaspoons dried mixed herbs
1 pinch ground black pepper
350g dried spaghetti
1 tablespoon chopped fresh basil, to garnish
Method
Heat the oil in a saucepan or frying pan. Add the onion and cook over a medium heat for 3 to 4 minutes, until soft.

Information:

This sauce makes a great cover for some hidden veg to help towards your 5 A Day. You could try adding finely chopped peppers or courgettes to cook with the onions. And if the sauce is a bit chunky, simply blend or purée it at the end.

Add the garlic, and cook gently for another minute. Add the chopped tomatoes, tomato purée and mixed herbs. Season with pepper and then simmer gently, stirring every now and again, for 15 minutes or until the sauce is thick and rich.

After the sauce has been simmering for 8 to 10 minutes, start cooking the spaghetti according to pack instructions.

Drain the spaghetti and serve with the sauce, topped with fresh basil or other chopped herbs, if you like.

Information:

Try stirring about 12 halved cherry tomatoes through the sauce just before serving for a juicy, fresh twist.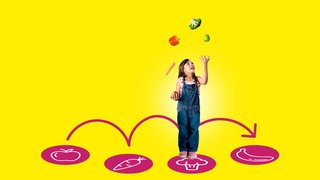 Want the recipe for a healthier family? Join today and over 8 weeks you'll get easy tips from nutrition experts and parents, healthy swaps and tasty recipes on a budget.