Vegetarian Jamaican rundown recipe
Rundown is based on coconut milk. This healthy take honours the Caribbean spices while upping the veg and using low-fat coconut milk.
Prep: 20 mins
Cook: 25 mins
Serves 4
Nutritional information

Per serving (1/4 recipe)

248kcal / 1,034kJ
10g protein
9.2g fat, of which 6.6g saturates
25g carbohydrate, of which 5.8g sugars
13g fibre
Trace amounts of salt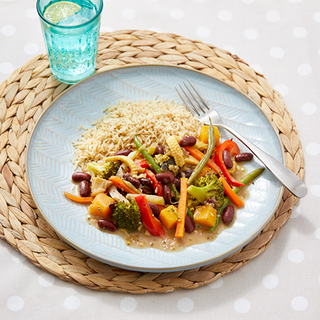 Ingredients
vegetable oil spray
1 small onion, chopped
3 medium spring onions, cut into strips
3 cloves garlic, finely chopped
3 sprigs fresh thyme
1 teaspoon all-spice powder
1 teaspoon curry powder
100g aubergine, chopped into cubes
100g butternut squash, deseeded and cut into cubes
1 small red bell pepper, cut into strips
90g broccoli florets, thinly chopped
2 tins kidney beans in water, drained
90g carrots, peeled and cut into strips
50g baby corn, cut into strips
80g cho cho, cut into strips
80g green beans
400ml low-fat coconut milk
half a teaspoon black pepper
1 teaspoon salt (optional)
To serve (optional)
130g brown basmati rice, washed with cold water and steamed
Seasoning tip
Always taste your food before adding salt – eating too much salt can increase blood pressure.
Method
Add 4 sprays of oil to a large non-stick pot on low heat. Add the onions, garlic and thyme, and sauté on low heat for 30 seconds.

Stir in all-spice powder and curry powder, and gently cook for 1 minute.

Stir in all the remaining vegetables and kidney beans, cook on medium heat for 60 seconds, then pour in the coconut milk. Stir well.

Information:

For some spiciness, add a halved scotch bonnet pepper along with the rest of the veg, then remove along with the thyme before serving.

Cover the pot and bring to the boil, then gently simmer on low heat for 15 to 20 minutes.

Add salt (if using) and pepper, stir and simmer for another 5 minutes, until the veg is has softened and cooked through. Remove the thyme sprigs and serve with a small (75g) portion of steamed brown basmati rice.

Information:

This dish freezes really well – so why not cook in batches, freeze for up to a month in labelled containers.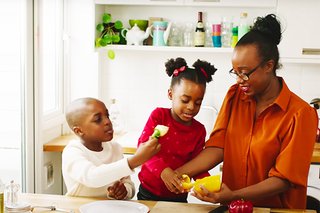 Get the family involved and make tasty meals from scratch!
Every week for 4 weeks you will get 2 healthy recipes – with videos, easy-to-follow instructions and a shopping list – straight to your inbox.