Caribbean tofu and sweet potato curry with rice and peas recipe
A tasty vegetarian curry combining classic Caribbean flavours with traditional rice and peas – the peas are actually beans!
Prep: 20 mins
Cook: 90 mins
Serves 4
Nutritional information

Per serving (1/4 recipe):

1,848kJ / 440kcal
14.9g protein
51g carbohydrate, of which 7.2g sugars
12.7g fat, of which 3g saturates
10.5g fibre
0.4g salt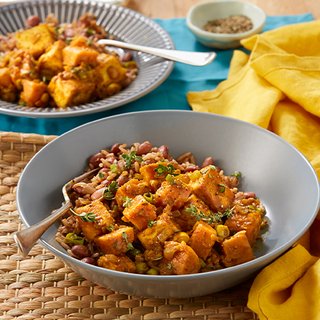 Ingredients
Rice and peas
125g dried kidney beans, soaked overnight and rinsed 
1 medium onion, chopped
2 spring onions, cut in half
2 sprigs fresh thyme 
1 scotch bonnet pepper (optional)
1 teaspoon black pepper
1 teaspoon all-purpose seasoning
1 garlic clove, finely chopped
100ml low-fat/light coconut milk
125g white rice (long grain or basmati), washed and drained  
Curry
300g extra-firm tofu, patted dry and cut into 2.5cm cubes
3 teaspoons vegetable oil
1 medium onion, chopped
4 garlic cloves, crushed and minced
0.5 teaspoon turmeric powder
1 teaspoon paprika
2 teaspoons Jamaican curry powder
0.5 scotch bonnet pepper, deseeded and chopped (optional)
0.5 teaspoon dried thyme
1 low-salt seasoning cube (5g)
1 bay leaf
125g sweet potatoes, peeled and chopped into bite-sized chunks
3 spring onions, chopped
2 tablespoons fresh coriander to garnish, chopped (optional)
Method
Put the beans in a large pot. Add the onions, fresh thyme, spring onions, chopped garlic, black pepper, all-purpose seasoning, whole scotch bonnet and coconut milk. Cover with 400ml of water, stir and then boil on a medium-low heat for 40 to 50 minutes, until the beans are soft.

Information:

If you prefer, use cow peas, gungo peas (pigeon peas) or black-eyed beans. You can cut the cooking time by using tinned beans instead of dried – just add all the ingredients, skip the initial boiling and go straight to adding the rice.

Add the washed rice to the beans and mix together. There should be about 2.5cm (1 inch) of water above the rice and beans – add more if needed, then cover the pot and cook on a low heat for 30 minutes or until the rice is tender. While the rice is cooking, start on the curry.

Heat 2 teaspoons of oil in a large non-stick pan or wok. Add the tofu and fry on each side until golden. Once cooked, remove the tofu cubes and drain on a plate lined with a paper towel to soak up any oil.

Heat the remaining teaspoon of oil in the same pan. Add the onions, garlic and pepper, and cook on medium heat for a couple of minutes, then add the turmeric, paprika, curry powder, scotch bonnet, dried thyme, crushed seasoning cube and bay leaf. Stir well to combine, and cook for another minute or 2 before adding the sweet potato and mixing thoroughly.

Add about 500ml of water, then bring to the boil on medium heat. Once boiling, cover and lower the heat to a simmer for 10 to 12 minutes, until the sweet potatoes are soft and the curry has thickened.

Information:

Squash or pumpkin work well with this recipe in place of the sweet potatoes.

Add the spring onion and tofu cubes to the curry, then bring back to the boil and cook for a further 5 minutes. Once the curry is ready, carefully remove the scotch bonnet from the cooked rice and peas, and fluff the rice with a fork. Serve with a portion of the curry, scattered with the fresh coriander.