Panjabi keema recipe
Using turkey means this version of a traditional minced-meat keema is lower in fat but just as delicious.
Prep: 15 mins
Cook: 20 mins
Serves 4
Nutritional information

Per serving (1/4 recipe):

1,886kJ / 451kcal
53g protein
9.2g carbohydrate, of which 7g sugars
20g fat, of which 0.8g saturates
6.6g fibre
1.3g salt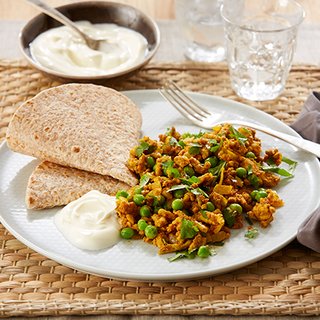 Ingredients
30ml rapeseed oil 
2 onions, finely chopped 
4 garlic cloves, finely chopped
400g tin of chopped tomatoes
20g fresh ginger, peeled and chopped 
4 green chillies 
150g frozen peas 
1.5 teaspoons turmeric 
700g turkey mince 
1 teaspoon of salt (optional)
1.5 teaspoon cumin powder 
1.5 teaspoon coriander
2 teaspoons garam masala 
Fresh coriander (to serve), finely chopped
Swap tip
To reduce the salt content of the dish, try swapping the salt for paprika or garam masala.
Method
Blend the chopped tomatoes, ginger and green chillies together, and set aside for later.

Heat the oil in a non-stick pan on medium heat and cook the chopped onions for 5 minutes or so. Once softened and beginning to brown, add the chopped garlic and cook for a further 3 minutes.

Add the blended tomato, ginger and chilli mix to the pan, along with the turmeric and frozen peas. Stir well and cook for a further 3 minutes.

Add the turkey mince to the pan along with the remaining spices. Mix well and keep cooking on a medium heat until the meat has turned white. Cover the pan, turn the heat to low and cook for another 5 minutes.

Remove the lid and carry on cooking for a few minutes to allow any excess water to evaporate. Once ready, top with chopped coriander.

Information:

Serve with chapatis or in a wrap with plain yoghurt.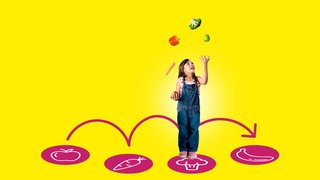 Want the recipe for a healthier family? Join today and over 8 weeks you'll get easy tips from nutrition experts and parents, healthy swaps and tasty recipes on a budget.