Pork and bean casserole recipe
This cheap and cheerful casserole is perfect for an economical mid-week meal.
Prep: 10 mins
Cook: 90 mins
Serves 4
Nutritional information

Per serving:

1,586 kJ / 379kcals
33g protein
5.5g fat, of which 1.5g saturates
40g carbohydrate, of which 16.5g sugars
12g fibre
0.5g salt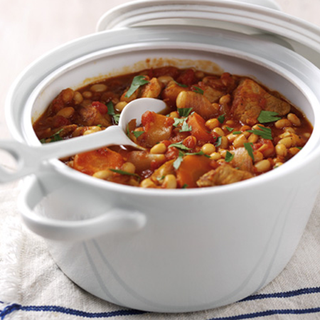 Ingredients
1 teaspoon vegetable oil
350g lean pork shoulder, cut into chunks
1 large onion, chopped
1 garlic clove, crushed
2 carrots, sliced
1 unpeeled medium apple, cored and chopped
400g chopped tomatoes
2 tins haricot or cannellini beans in water, rinsed and drained
300ml reduced-salt vegetable or chicken stock
2 tablespoons tomato purée
1 tablespoon worcestershire sauce
2 teaspoons dried mixed herbs
1 pinch ground black pepper
2 tablespoons chopped fresh parsley
Method
Preheat the oven to 180C (160C fan, gas mark 4).

Meanwhile, heat the vegetable oil in a large flameproof casserole dish. Add the chunks of pork, cooking them over a high heat for 3 to 4 minutes, until seared and browned.

Information:

This casserole also works really well with chunks of turkey or chicken breast instead of pork.

Add the onion, garlic, carrots and apple. Cook, stirring, for 2 more minutes.

Add the tomatoes, beans, tomato purée, worcestershire sauce, mixed herbs and stock. Season with some pepper and stir well to mix. Put the lid on and transfer to the oven to cook for 90 minutes. Serve, sprinkled with the chopped parsley.

Information:

Why not serve with some jacket potatoes? Just scrub some even-sized large potatoes and bake them on the shelf above the casserole for the final hour.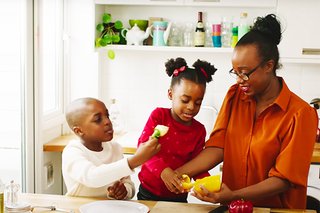 Get the family involved and make tasty meals from scratch!
Every week for 4 weeks you will get 2 healthy recipes – with videos, easy-to-follow instructions and a shopping list – straight to your inbox.