Zombie peppers – Halloween recipe
These petrifying peppers, stuffed with blood-red veggie rice, make a real monster of a meal!
Prep: 10 mins
Cook: 50 mins
Serves 4
Nutritional information

Nutritional information is not currently available for this recipe.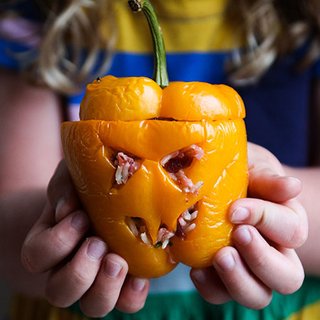 Ingredients
4 peppers (any colour)
200g rice
1 tablespoon oil
2 onions, peeled and diced
1 large or 2 small beetroot, grated
1 tablespoon Worcestshire sauce
50g lower-fat mozzarrella, grated
50g lower-fat cheddar, grated
2 teaspoons dried mixed herbs (or fresh parsley or basil)
1 pinch black pepper
Method
Slice the tops off the peppers and put the lids aside. Remove and throw away the seeds. With a sharp knife, carefully carve a spooky face into each pepper. Once they're scary enough, put the peppers in a roasting tray and turn on the oven to preheat to 180C (fan 160C, gas mark 4).

Information:

If they're old enough, the kids can carve the faces into the peppers themselves. Just make sure to keep an eye on them at all times. Younger ones can tell you what face to carve, or draw what they would like instead!

Bring a pan of water to the boil and cook the rice according to the packet instructions. When it's ready, drain and set aside.

While the rice is cooking, heat the oil in a saucepan over a medium-high heat and fry the onions until softened and beginning to go see-through – about 5 minutes.

Take the pan off the heat, then add in the cooked rice, grated beetroot, grated cheese, Worcestershire sauce, black pepper and herbs. Mix well.

Spoon the filling into the peppers, and put their lids back on. Roast in the oven for 45 minutes, or until they've softened but are still holding their scary shape! Leave to cool for 5 minutes, then dish up with a side of salad and enjoy.