Pea poppin' risotto recipe
A hearty classic packing a healthy veg punch – perfect to help get your 5 A Day!
Prep: 10 mins
Cook: 35 mins
Serves 6
Nutritional information

Nutritional information is not currently available for this recipe.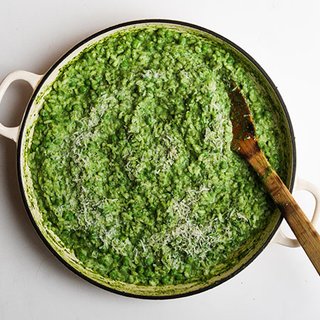 Ingredients
1 tablespoon oil
2 medium onions, finely chopped
1 garlic clove, crushed
300g arborio rice
1.2 litres reduced-salt vegetable stock
500g frozen peas, defrosted
80g spinach (fresh, or frozen and defrosted)
125g reduced fat-cream cheese
10 fresh mint, basil or parsley leaves, chopped (or 1 teaspoon of dried)
50g lower-fat hard cheese, grated
Method
Heat the oil in a frying pan over a medium-high heat. Cook the onions until they are soft and beginning to go see-through, stirring regularly. Add the garlic and cook for another minute.

Tip the rice into the pan and cook for 2 minutes, then pour in a ladle of stock and keep stirring!

Once the first ladle of stock is absorbed, pour in another and carry on cooking, stirring regularly. Repeat until the the rice is cooked and all but 200ml of the stock is used – about 20 minutes. Turn off the heat and set the pan aside.

Put the spinach and half of the peas in a bowl, and add the remaining stock. Blend or mash until you have a smooth green sauce.

Information:

Risotto is super-flexible so you can try this recipe with pretty much any veg you like! Sweet potato, butternut squash, courgette and tomatoes all work particularly well.

Pour the green sauce into the rice, along with the remaining peas, fresh or dried herbs and lower-fat cream cheese. Stir well to mix, and put back on the heat for a couple of minutes to warm through. Serve topped with the grated lower-fat hard cheese and spoons at the ready!