Classic cottage pie recipe
This comforting pie, topped with mash rather than pastry, is made with lean mince and extra veg for a healthy twist on a family favourite.
Prep: 15 mins
Cook: 30 mins
Serves 4
Nutritional information

Per serving:

1531kJ / 363kcals
25.5g protein
5.3g fat, of which 2.6g saturates
49.7g carbohydrate, of which 5.6g sugars
7.2g fibre
0.8g salt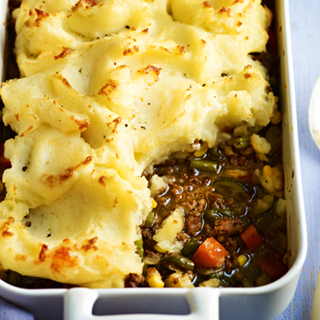 Ingredients
1kg potatoes, chopped into chunks
350g extra-lean minced beef
1 small onion, finely chopped
1 medium carrot, finely chopped
1 courgette, finely chopped
100g green beans, washed and chopped
1 teaspoon dried mixed herbs
1 pinch ground black pepper
450ml cold water
4 teaspoons reduced-salt gravy granules
50g sweetcorn (fresh, frozen or tinned)
Method
Cook the potatoes in a large saucepan of boiling water for about 20 minutes until tender.

While the potatoes are cooking, heat a large saucepan. Add the minced beef a handful at a time, cooking until browned.

Stir in the onion, carrot, courgette, green beans and mixed herbs, then add 450ml water. Bring to the boil, then turn down the heat and simmer without a lid for about 20 minutes, until the veg has softened.

Information:

Try grating the courgette if people are not keen on chunks.

Turn the grill on to preheat, and warm a large baking dish under it for a couple of minutes. While the grill is heating, drain and mash the potatoes, seasoning them with some pepper.

Add the sweetcorn to the mince mixture, then sprinkle in the gravy granules and stir until thickened. Season if needed, then tip into the baking dish. Spoon the mash on top, spreading it out to cover the mince, then pop under the grill.

Once the top has browned, remove from the grill and leave to cool for a couple of minutes. Dish up and enjoy!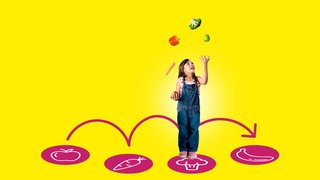 Want the recipe for a healthier family? Join today and over 8 weeks you'll get easy tips from nutrition experts and parents, healthy swaps and tasty recipes on a budget.