Fabulous fish pie recipe
This fish pie is warm and comforting, and can be made with any type of fish. It's also a great way of getting kids used to eating fish.
Prep: 20 mins
Cook: 50 mins
Serves 4
Nutritional information

Per serving:

1,334kJ / 319kcal
26g protein
6g fat, of which 2g saturates
43g carbohydrate, of which 7g sugars 4g fibre
0.5g salt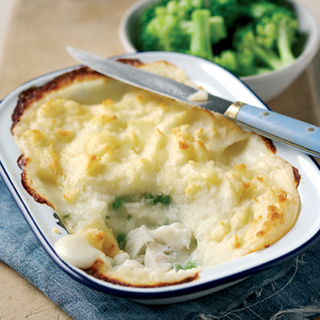 Ingredients
700g potatoes, peeled and chopped
425ml 1%-fat milk
25g lower-fat spread
25g plain flour
2 tablespoons fresh parsley, chopped
100g frozen peas
1 pinch ground black pepper
300g coley, pollock or other fish fillets
25g reduced-fat mature cheddar, grated
Method
Boil the potatoes for 15 to 20 minutes until tender, then drain them and mash with 2 tablespoons of the milk.

While the potatoes are boiling, preheat the oven to 200C (fan 180C, gas mark 6). Put the remaining milk, low-fat spread and flour into a saucepan. Bring to the boil over a medium heat, stirring continuously with a small whisk or wooden spoon until the sauce bubbles and thickens. Stir in the parsley (if using) and the peas, and season with pepper. Turn off the heat.

Place the chunks of fish in an ovenproof dish. Pour the sauce over, then spoon the mashed potato on top, spreading it evenly. Finally, sprinkle the cheese over the whole dish.

Information:

If you like, you can make each portion in individual ovenproof dishes to make serving simple.

Bake in the centre of the oven for 25 to 30 minutes, until the top is golden brown. Serve with steamed or boiled broccoli, spinach or other greens.

Information:

This recipe works with any type of fish, so go with your favourite or what's on offer. Look out for fish-pie mix from the fresh fish counter, which is economical to buy.