Turkey stir-fry recipe
Quick, colourful and very good for you, this simple turkey stir-fry tastes superb.
Prep: 15 mins
Cook: 10 mins
Serves 4
Nutritional information

Per serving:

1,258kJ / 301 kcals
25g protein
7g fat, of which 2g saturates
35g carbohydrate, of which 7g sugars
3g dietary fibre
141mg sodium
0.3g salt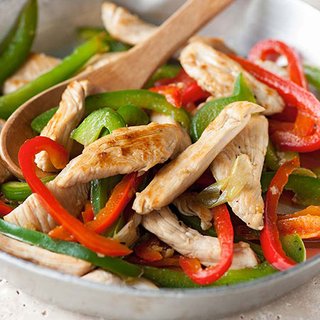 Ingredients
125g dried egg noodles, medium or fine
1 small orange, juiced
1 tablespoon reduced-salt soy sauce
1 tablespoon cornflour
1 tablespoon vegetable oil
350g skinless turkey breast, cut into strips
5 spring onions, thinly sliced
1 pepper, any colour, deseeded and thinly sliced
1 carrot, cut into thin strips
2 celery sticks, thinly sliced
1 handfuls mushrooms (cup or button), sliced
1 pinch ground black pepper
Method
Put the noodles into a heatproof bowl and cover with boiling water. Soak for 6 minutes, or follow the instructions on the packet.

Information:

If you prefer, leave out the noodles and cook 150g long grain rice to serve with the stir-fry.

Next, mix together the orange juice, soy sauce and cornflour until smooth. Set to one side. Heat the oil in a wok or very large frying pan.

Add the turkey and stir-fry briskly for 3 to 4 minutes. Add the spring onions, pepper, carrot, celery and mushrooms. Stir-fry over a high heat for another 3 to 4 minutes, until the turkey is cooked. The vegetables should remain crisp and crunchy.

Information:

For a vegetarian version, replace the turkey with a 300g pack of firm tofu cut into chunks, or Quorn chicken-style pieces.

Give the orange juice mixture a good stir, then add it to the stir-fry and cook for a few moments until thickened. Drain the noodles well, then add them to the turkey mixture. Serve at once.