Slow-cooked lamb and leek bake recipe
It takes about 20 minutes get this casserole in the oven – then you can enjoy the mouthwatering aromas slowly filling the kitchen as it bakes!
Prep: 10 mins
Cook: 85 mins
Serves 4
Nutritional information

Per serving:

1,699kJ / 406kcals
28g protein
14g fat, of which 6g saturates
44g carbohydrate, of which 11g sugars
7g fibre
0.3g salt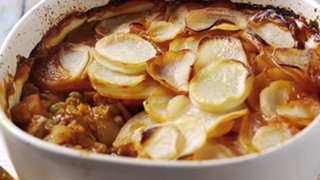 Ingredients
1 teaspoon vegetable oil
350g lamb neck fillet, trimmed and chopped into bite-sized chunks
1 large onion, peeled and chopped
1 leek, sliced
2 carrots, peeled and sliced
100g dried red lentils
50g frozen peas
750ml reduced-salt vegetable or chicken stock
2 tablespoons tomato purée
1 teaspoon ground cumin
1 teaspoon ground paprika
1 pinch ground black pepper
400g potatoes, washed and thinly sliced
Method
Sprinkle the dried mixed herbs, pepper and flour onto a plate and mix. Roll the cubes of pork in this mixture. Preheat the oven to 180C (160C fan, gas mark 4).

Preheat the oven to 180C (fan 160C, gas mark 4).

Heat a large flameproof casserole dish on the hob and add the vegetable oil. Add the lamb chunks, letting them sear and brown. Cook for 3 to 4 minutes, until browned on all sides.

Add the onion, leek, carrots, lentils, peas, stock, tomato purée, cumin and paprika. Season with some pepper and stir well to mix. Bring up to the boil, then remove from the heat.

Information:

The cumin and paprika add extra flavour and spiciness, though you could leave them out (or switch them for something else) if you prefer.

Arrange the sliced potatoes in an overlapping layer to cover the surface of the lamb mixture.

Cover and bake for 75 minutes hours, removing the lid for the final 30 minutes to brown the potatoes. Remove from the oven and leave to stand for 5 minutes before serving.

Information:

Serve with a portion of your favorite green veg – like broccoli, green beans or spinach – to help towards your 5 A Day.