Healthy mac and cheese recipe
Find out how to make this tasty baked mac and cheese recipe – a healthier version of a family favourite.
Prep: 15 mins
Cook: 35 mins
Serves 4
Nutritional information

Per serving:

2,178kJ / 517kcals
21.4g protein
14.3g fat, of which 5.8g saturates
73.2carbohydrate, of which 10.9g sugars
5.2g fibre
0.8gsalt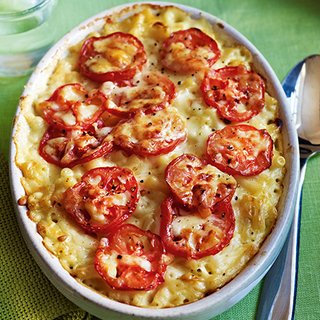 Ingredients
300g macaroni
40g lower-fat spread
1 small onion, finely chopped
50g plain flour
600ml semi-skimmed milk
75g reduced-fat mature Cheddar cheese, grated
1 teaspoon English mustard
1 pinch ground black pepper
2 large tomatoes, sliced
Method
Preheat the oven to 190C (fan 170C, gas mark 5). Cook the macaroni in a large saucepan of boiling water for 8 to 10 minutes, or according to the instructions on the packet, until tender. Once it's ready, drain well and return it to the saucepan.

Information:

You can use any type of pasta for this, but tube shapes work best. Take care not to overcook it – it needs to keep a little "bite".

While the pasta is cooking, melt the low-fat spread in a large saucepan and cook the onion for 3 or 4 minutes until softened, but not brown. Remove from the heat and stir in the flour a little at a time. Return to the heat and cook gently, stirring constantly, for about 1 minute, until the mixture has a texture a bit like sand. Remove from the heat again and add in the milk a little at a time, stirring well to mix together.

Once all the milk is added, return to the heat once more. Stir the sauce constantly for a few minutes until it's thick and smooth. At this point, remove from the heat and add about two-thirds of the cheese and the mustard. Season with pepper, and stir again to combine.

Add the hot cheese sauce to the pan with the cooked pasta and mix well to combine and coat everything with the sauce. Tip the mixture into a baking dish which can hold about 1.2 litres, or use individual serving dishes. Top with the tomato slices and sprinkle the remaining cheese on top.

Information:

Instead of tomatoes you could use a layer of sliced leeks, courgettes and peppers, lightly cooked in boiling water to soften them.

Pop in the oven and bake for 15 to 20 minutes until piping hot and the cheese on top is starting to brown. Remove from the oven, leave to cool for a couple of minutes and then serve.

Information:

This goes great with a side of your favourite cooked veg or a mixed leaf salad.