Prawn jambalaya recipe
This healthy, easy-to-make prawn dish will satisfy the whole family.
Prep: 15 mins
Cook: 25 mins
Serves 4
Nutritional information

Per serving:

1,448kJ / 342kcals
17.9g protein
2.7g fat, of which 0.4g saturates
59.3g carbohydrate, of which 5.7g sugars
1g salt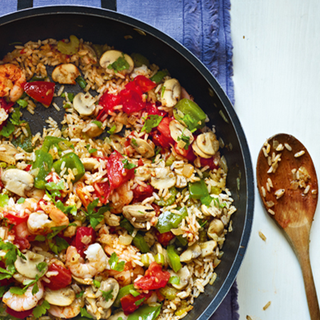 Ingredients
250g easy-cook long grain white rice
1 teaspoon vegetable oil
1 medium onion, finely chopped
2 celery sticks, thickly sliced
1 green pepper, deseeded and chopped
2 handfuls of cup or button mushrooms, sliced
4 tomatoes, chopped
250g cooked peeled prawns (defrosted if frozen)
2 tablespoons fresh parsley, chopped
2 teaspoon cajun seasoning
half a teaspoon chilli powder
1 pinch ground black pepper
Method
Put the rice into a large saucepan and cook in simmering water for 12 to 15 minutes, or according to instructions on the packet, until tender. Drain well.

Meanwhile, heat the oil in a large non-stick frying pan and cook the onion and celery for 3 to 4 minutes, until softened.

Add the green pepper, mushrooms, tomatoes and prawns, and stir-fry for another 4 minutes.

Information:

Next time, try 150g chopped cooked chicken instead of prawns, if you like.

Stir in the hot cooked rice, parsley, cajun seasoning or paprika and chilli powder. Cook for 2 more minutes, stirring all the time until everything is heated through.

Information:

Save time by cooking the rice in advance, rinsing it with cold water to cool it quickly, then storing in the fridge until needed. Make sure it's reheated thoroughly by adding to the frying pan with the green pepper and mushrooms, and cooking for 3 to 4 minutes before stirring in the tomatoes and prawns.

Check the seasoning, adding some pepper and an extra pinch of chilli powder if needed. Serve at once.