Mushroom risotto recipe
A real comfort classic, risotto is much easier to make than you might think. All you need is the right rice and a bit of patience!
Prep: 15 mins
Cook: 30 mins
Serves 4
Nutritional information

Per serving:

1,342kJ / 317 kcal
8.6g protein
2.2g fat, of which 0.3g saturates
63.8g carbohydrate, of which 1.8g sugars
3.9g fibre
0.4g salt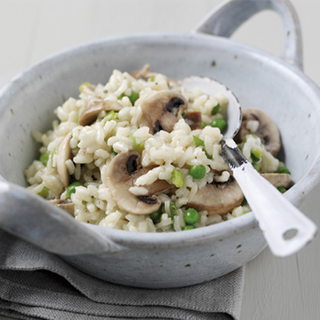 Ingredients
1 teaspoon vegetable oil
5 spring onions, washed, trimmed and chopped
300g risotto rice (arborio or carnaroli work best)
1 garlic clove, peeled and crushed
3 handfuls of cup or button mushrooms, washed and sliced
900ml reduced-salt vegetable stock
75g frozen peas, defrosted
1 pinch ground black pepper
Method
Heat the vegetable oil in a large frying pan or saucepan, and cook the spring onions over a medium-high heat for a few seconds. Turn the heat down, then add the rice and fry over a low heat for about a minute, stirring all the time, until it looks glossy but not brown.

Information:

Use proper risotto rice if possible because it gives a delicious creamy texture – although you can make risotto with any rice you have, like basmati, long grain or paella rice. They will absorb the liquid quicker however, so will need less time to cook.

Add the garlic and mushrooms, and cook for a minute, until the garlic is fragrant. Pour in about half the hot stock and stir well. Cook over a medium heat for 20 to 25 minutes, stirring often and slowly adding the remaining stock a little at a time, until the rice has soaked up all the liquid.

Check that the rice is tender – it should have a nice creamy texture. If it needs cooking for a little longer, add a little more hot water and check again after another few minutes.

Add the peas, stirring gently to mix them in. Cook for another couple of minutes to allow them to warm through. Check the seasoning, adding some pepper if needed. Serve.

Information:

Sprinkle each portion with 1 teaspoon of finely grated parmesan or cheddar cheese to finish, if you like.