Deresh curry recipe
A classic Bengali vegetarian curry, made with okra and potato.
Prep: 10 mins
Cook: 20 mins
Serves 4
Nutritional information

Per serving:

824kJ / 197kcal
6g protein
14.3g carbohydrate, of which 6.8g sugars
7g fat, of which 1.9g saturates
7.3g fibre
0g salt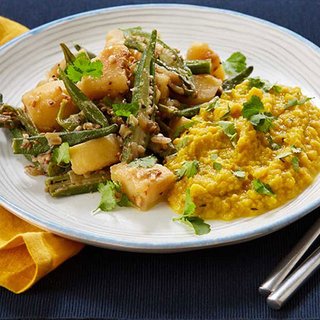 Ingredients
2 tablespoons vegetable oil
1 tablespoon panch phoran (mixed Bengali spices)
2 bay leaves
1 onion, finely chopped
4 garlic cloves, finely chopped
1 tablespoon fresh ginger, peeled and grated
3 medium potatoes, cubed
450g fresh okra, washed and halved
350ml water
Method
Heat the vegetable oil in a pan, then add the panch phoran, bay leaves, chopped onion, garlic and ginger. Cook on low heat for 3 or 4 minutes, until the mixture starts to brown.

Add the chopped potato, cover and cook for 5 minutes until it starts to soften.

Add the okra and mix well. Add the water, stir and lower the heat. Leave the mixture to simmer uncovered for around 5 minutes, until the okra is softened.

Information:

Serve with rice as a main, or as an accompaniment to dhal and other curries as part of a larger meal.