Pork and garlic bread bake recipe
This easy pork bake is hearty and full of flavour, with slices of cheese-topped garlic bread giving it a gorgeous crunchy finish.
Prep: 15 mins
Cook: 90 mins
Serves 4
Nutritional information

Per serving:

1,792kJ / 426 kcal
32.7g protein
14.4g fat, of which 3.7g saturates
39.5g carbohydrate, of which 7.9g sugars
4.1g fibre
1.3g salt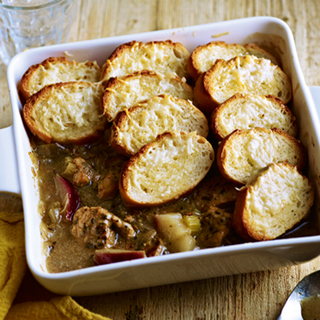 Ingredients
2 teaspoons dried mixed herbs
25g plain flour
1 pinch ground black pepper
450g pork fillet (tenderloin), cut into chunks
1 teaspoon vegetable oil
1 large onion, chopped
2 celery sticks
1 medium apple, cored and chopped
500ml reduced-salt vegetable or chicken stock
4 teaspoons lower-fat spread
1 garlic clove, crushed
1 baguette, cut to give about 15 slices
20g reduced-fat mature cheddar cheese, grated
Method
Sprinkle the dried mixed herbs, pepper and flour onto a plate and mix. Roll the cubes of pork in this mixture. Preheat the oven to 180C (160C fan, gas mark 4).

Heat the oil in a flameproof casserole dish. Add the pork, onion, celery and apple, and cook for about 5 minutes, stirring well.

Add the stock and bring to the boil. Once bubbling, remove from the heat, cover and cook in the oven for 75 minutes.

Once the casserole has been in the oven for about 70 minutes, make the topping. Mix together the low-fat spread and garlic, then spread on the slices of bread.

Remove the dish from the oven. Arrange the bread on top of the casserole, spread-side up, and sprinkle over the cheese. Return to the oven, without a lid, to bake for another 10 to 15 minutes until browned.

Information:

Use finely grated parmesan instead of cheddar, if you prefer.

Once cooked, leave to cool for a few minutes before dividing into bowls. Tuck in and enjoy!

Information:

Serve with a portion of your favorite green veg – like broccoli, green beans or spinach – to help towards your 5 A Day.