Sausage, tomato and butter bean bake recipe
With chunky sausages and filling butter beans, this recipe is perfect for a satisfying midweek meal.
Prep: 5 mins
Cook: 40 mins
Serves 4
Nutritional information

Per serving:

1,244kJ / 296kcals
21.5g protein
7.2g fat, of which 2.2g saturates
30.8g carbohydrate, of which 11g sugars
11.1g fibre
1.4g salt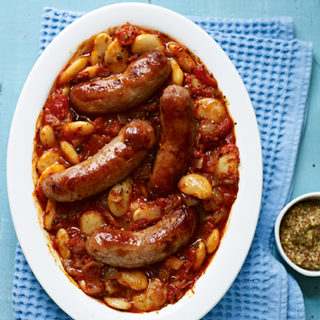 Ingredients
8 reduced-fat sausages
2 teaspoons olive oil
1 large onion, finely chopped
1 tablespoon dried sage
1 tin chopped tomatoes
2 tins butter beans in water, drained and rinsed
1 pinch ground black pepper
Method
Preheat the grill to medium, then grill the sausages for 1 to 2 minutes, or until just sealed and lightly browned on both sides. Transfer to a plate and set aside. Switch the oven to preheat to 200C (180C fan, gas mark 4).

Gently heat the olive oil in a frying pan. Add the onion and sage, and fry over a low heat for about 10 minutes. The onion should be completely softened but not coloured.

Information:

Try adding chopped courgettes or other veg to get more of your 5 A Day.

Turn the heat up to medium-low and add the tomatoes. Bring to a simmer, then cook for about 5 minutes, stirring now and then until the sauce is slightly reduced and thickened. Season with pepper.

Transfer the tomato mixture to an oven dish and stir in the butter beans. Arrange the sausages evenly on top, and then push them down into the mixture.

Cook in the oven for 15 to 20 minutes, until everything is bubbling, and the sausages are cooked through and tender. Serve straight to the table and let everyone tuck in.