Bang-tasty chicken drumsticks recipe
These chicken drummers are so simple, yet deliciously tasty!
Prep: 20 mins
Cook: 30 mins
Serves 4
Nutritional information

Per serving (1/4 recipe):

1,690kJ / 404kcal
36g protein
54g carbohydrate, of which 11g sugars
6.5g fat, of which 2g saturates
9g fibre
0.5g salt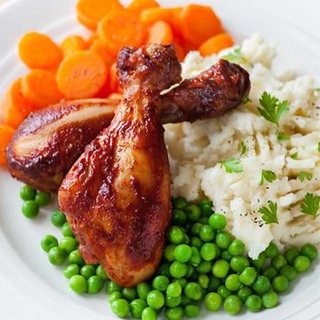 Ingredients
2 teaspoons tomato purée
2 teaspoons reduced-salt soy sauce
2 tablespoons lemon juice
8 skinless chicken drumsticks
880g potatoes, peeled and cut into chunks
4 carrots (or 320g), sliced
320g frozen peas
4 tablespoons 1%-fat milk
1 pinch ground black pepper
Method
Put the tomato purée, reduced-salt soy sauce and lemon juice into a mixing bowl (not a metal one). Mix well and season with black pepper. Add the chicken drumsticks, turning to coat them in the mixture. Cover and refrigerate for at least 30 minutes, or overnight if preferred.

Information:

Chicken skin has a high fat content, so that's why it's best to remove it.

When ready to cook, preheat the oven to 200C/fan oven 180C/gas mark 6. Arrange the drumsticks in a foil-lined roasting tin and roast for 30 minutes, brushing them with the remaining glaze after 20 minutes.

While the chicken is roasting, boil the potatoes and carrots in separate saucepans until tender – they will take about 20 minutes. Put the peas on to cook in a little boiling water, 5 minutes before the chicken is ready.

Drain and mash the potatoes, beat in the milk and season with black pepper. Serve with the chicken drumsticks, carrots and peas.

Information:

Try making mash with a mixture of potatoes and butternut squash for a different flavour.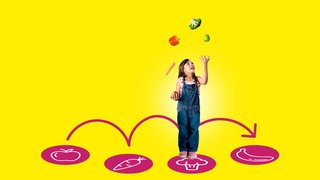 Want the recipe for a healthier family? Join today and over 8 weeks you'll get easy tips from nutrition experts and parents, healthy swaps and tasty recipes on a budget.