Accessible activities
There are lots of ways to keep disabled children and young people active – start off by choosing activities your child is interested in and adapt them.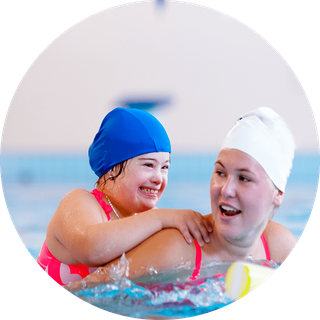 Keeping kids moving
For kids to lead a healthy lifestyle they need to move as much as possible.
Being active for at least 60 minutes each day helps keep their hearts healthy and their bones strong – and if they have additional needs, this is just as important.
Many of the activities we suggest for non-disabled children, including our Shake Up games, can be modified and enjoyed by disabled children.
For some it may be an easy adaptation to the games like:
using larger or softer balls
making distances shorter or targets bigger
playing for less time
Get going at home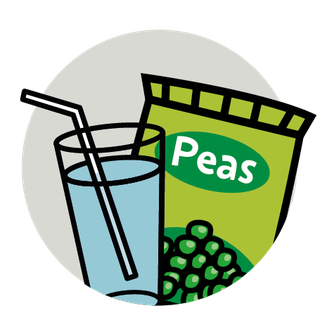 Obstacle race
This is a seated version of a classic obstacle race. Sit at a table and give everyone 3 dried peas, a drinking straw, a bottle of water and their favourite healthy snack. Each participant must use the straw to blow the peas off the table, one by one. Then they can eat their snack and use the straw to drink the water.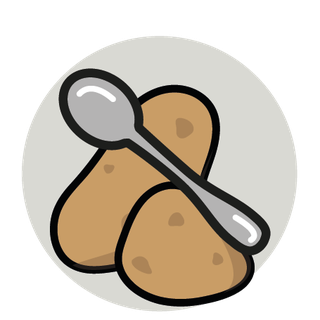 Potato golf
On a table, place different-sized dishes and saucers 30 to 60cm apart, within reach of the players. Then use a spoon to toss a small potato into each "hole" (saucer) in as few goes as possible. The person with the lowest score wins!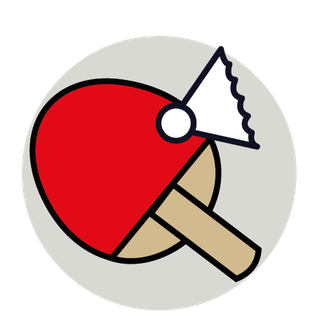 Badmin-cricket
You can play this indoors or outside. Find a shuttlecock and table tennis bat. Make 2 teams, and take turns to bat and bowl. Just like cricket, you can score runs by hitting the shuttlecock as far as possible. Players are out by being caught, or by hitting the shuttlecock into an agreed area.
Try our Shake Up games
These games are great for all kids, either as they are or by making a few small changes.
Fun as a family
These activities can be made accessible for all and are great things to try as a family.
10-pin bowling

Bowling is perfect for playing with family and friends, and it's usually easy to find a bowling alley nearby.

There's a range of adaptive equipment available, like ramps and barriers, which means it's an accessible activity for many disabled people – so everyone can join in the fun.

Swimming

Swimming is an excellent way to get active, because the water can support your body as well as giving extra resistance to work against. It's especially good for keeping the muscles in your arms, shoulders, chest and back strong as well as developing stamina.

It's also a wonderful way to unwind and have fun together as a family.

Swim England has more information on disability and swimming.
Boccia

Boccia was first popular with people with cerebral palsy but is now also played by people with other issues affecting their motor skills, such as muscular dystrophy. It's also a great game for the whole family to play.

The aim is to throw or roll leather balls as close as possible to a target ball, or jack – a bit like bowls or French boules.

Find out more at Boccia England.
Team sports

Many team sports can be played as a mixed group of disabled and non-disabled people together. Wheelchair basketball, wheelchair rugby, sitting volleyball and cricket are great examples of how sport can be adapted so everyone can join in.

Find out more from your local council's website.
Enjoy the outdoors

Why not take a walk in your local town or country park? Many have accessible trails and activities such as orienteering and guided activities that can be enjoyed by disabled children and their families.

Find out more from your local council's website or National Parks UK.
Cycling

Go cycling on a tandem or try out one of the modified bikes that you power with your arms. There are many places you can hire these and cycle safely away from traffic-filled roads.

Find out more information from Cycling UK.
Being Active guide
Activity Alliance and Disability Rights UK have created an accessible guide to support more disabled people to enjoy an active lifestyle.
These organisations also have loads more ideas and opportunities for disabled people:
National Disability Sports Organisations
The National Disability Sport Organisations (NDSOs) play a vital role in sport and physical activity for disabled people.
For many, the NDSOs are the starting point to get involved in sport and, if they choose to, develop their talent. The NDSOs also support National Governing Bodies of sport to deliver more inclusive programmes.
The NDSOs are: