Black Widow's Secret Spy Mission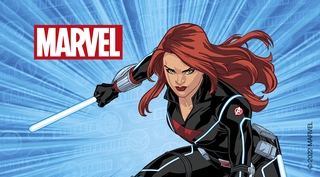 Black Widow is a trained super spy. Can you escape the enemy guards using your super skills?
Players: 4 or more
Where to play? Outdoors
How to play
Divide an area in 2. Grab some soft balls or scrunch up some bits of paper and split into 2 teams – Black Widow spies vs the Enemy Guards.

---

The Enemy Guards team throws the paper at the Black Widow team.

---

The Black Widow team have to duck, and weave – but cannot leave their area! If you get hit, you're "out" and go to spy jail. Cheer your team on from the side if you're out.

---

If you catch the paper, you can pick 1 "out" spy to come back onto your team. Keep going until everyone is out, then switch teams and play again!