Getting a wheelchair, scooter or walking aid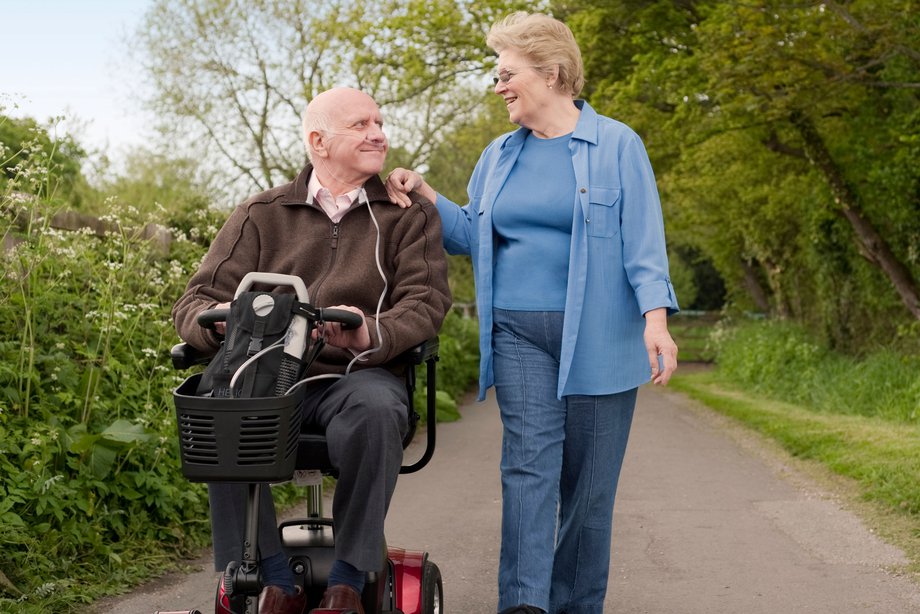 If you have a long-term or permanent difficulty with mobility, then getting a wheelchair, scooter or walking aid can help you be more independent. The most common types of mobility equipment are:
walking sticks
walking frames
wheelchairs
scooters
Walking sticks are ideal if you have reasonably good mobility but want something to give you a little extra confidence and balance.
Walking frames offer bit more support than a stick.
Wheelchairs can be manual or electric (powered). They tend to be smaller than mobility scooters and are often easier to handle, so they may allow better access to shops and other buildings.
Scooters are for people who are able-bodied enough not to need a wheelchair. They're ideal if you have limited mobility – for example, from arthritis or multiple sclerosis – but still want to be able to visit friends and family nearby.
If you want to find out about home alterations and equipment to help you around the house, read our information on household equipment, aids and adaptations.
Walking sticks
There are lots of different types of walking stick. They can be made of wood, metal or carbon fibre, with a variety of handle shapes. They can be foldable or even have folding seats.
The NHS can loan walking sticks to keep you mobile. You can arrange this through your GP, hospital doctor or physiotherapist. There's no charge, but there may be a returnable deposit.
You can also buy a walking stick for between £5 and £30.
It's a good idea for a physiotherapist to show you how to use a walking stick properly, especially if you use a stick in each hand or for going up and down stairs.
Find out how to access a local physiotherapist.
Read more information from Which? about walking sticks.
Walking frames
Walking frames come without wheels (commonly known as Zimmer frames) and with wheels.
To use ones without wheels, you need you to have enough strength in your arms to lift the frame every time you step forward. Folding versions, which you can pack into the boot of a car, are also available.
Walking frames with wheels require less arm strength and are better suited to getting around outside the home.
All walking frames with wheels have brakes. Folding versions are available too.
The NHS can loan walking frames to keep you mobile. You can arrange this through your GP, hospital doctor or physiotherapist. There's no charge, but there may be a returnable deposit.
Walking frames cost around £20 for a basic, non-wheeled type and up to £200 for a 4-wheeled version.
Find out how to access a local physiotherapist.
Wheelchairs and scooters
There are lots of different types of wheelchairs and scooters. The main things to consider are whether the wheelchair or scooter will be:
self-propelled, pushed by someone else or electric-powered
used often or just occasionally 
used indoors or outdoors 
need to be put in a car
Some of the other things to consider when choosing a wheelchair or scooter are:
your physical ability – if you're unable to stand up, a scooter may be difficult to manage
how you will use the wheelchair or scooter – whether you need to get up stairs or through narrow doorways
practicality – such as access to a power point if it needs charging, or having somewhere secure to store it
What to look for in a wheelchair
The design of a wheelchair affects how it can be used. Look out for:
large rear wheels – these make wheelchairs easier to manoeuvre 
wheels positioned further forward on an adjustable axle – mean less effort is required to move the chair
lightweight chairs that fold easily – if they need to be lifted and transported regularly
seat size, angle and style, as well as the position of the foot, back and arm rests – when considering the comfort of the chair
Bear in mind that standard wheelchairs can't be modified. "Active-user" wheelchairs are usually more expensive, but they have the advantage of being adjustable and adaptable.
If you need a wheelchair to be pushed by someone else, it's important to consider how easy it will be for them to use it. For example, can they easily lift it and put it in the boot of the car?
Before deciding on a specific style, it's a good idea to try it out around the house or on the local roads.
How to get an NHS wheelchair or scooter
NHS wheelchairs are available to people of all ages who have a long-term need for mobility help. However, your eligibility will be decided locally and can vary depending on where you live.
Some wheelchair services or local hospitals will also provide wheelchairs on loan in certain circumstances – for example, following surgery.
The NHS is unlikely to provide you with a mobility scooter.
NHS wheelchair services
Before you can get a wheelchair on the NHS, you'll have to have an assessment. This is done by the NHS wheelchair service, and will decide whether you're eligible for an NHS wheelchair and, if so, what type.
Assessments are usually carried out at the wheelchair service centre. You can have the assessment at home or at work, but you won't be able to see and try the full range of chairs available.
To get an NHS wheelchair assessment, ask your GP, hospital doctor, physiotherapist or occupational therapist to refer you to your local wheelchair service. Many wheelchair services have a waiting list for assessments, so expect it to take several weeks after being referred.
How to access a local physiotherapist.
How to get occupational therapy.
NHS voucher scheme
Some NHS wheelchair services offer a voucher scheme to widen your choice of wheelchair.
You receive a voucher for the value of the chair you would have been offered after your assessment that you can put towards the cost of a chair bought privately or in partnership with the NHS.
Other ways to get a wheelchair or scooter
Motability hire schemes
The Motability Scheme can be very useful if you want to hire or buy an electric wheelchair or scooter.
It's a not-for-profit scheme that allows people who receive the high-rate mobility component of Disability Living Allowance or the War Pensioners' Mobility Supplement to use their benefits to hire or hire purchase an electric wheelchair or scooter.
Local authority wheelchairs
Local authorities provide wheelchairs as part of their duty to help disabled children access education.
As well as providing children with wheelchairs, local authorities are responsible for carrying out home adaptations if you need to use a wheelchair at home.
The local authority is unlikely to provide you with a mobility scooter.
Contact your local authority for more information about what's available for you.
Charity wheelchairs
Local Red Cross branches can often lend wheelchairs and equipment for short periods.
Some towns or shopping centres have a Shopmobility scheme, where you can borrow a wheelchair or scooter to go shopping. It's run by volunteers and is usually free.
Better Mobility has a list of charities that can help to fund mobility equipment.
Buying a wheelchair or scooter
If you can't get them on the NHS, or from your local authority or a charity, you can buy a wheelchair or scooter privately.
There are lots of wheelchair retail companies. Your local NHS wheelchair service may be able to make some recommendations.
The consumer website Which? Elderly Care has lots of advice on choosing and buying mobility products.
How much does a wheelchair or scooter cost?
Scooters can range from less than £400 to more than £5,000 depending on the size and quality.
Wheelchairs range from around £150 to more than £1,000 depending on whether they are manual or electric.
Do some research before you buy a wheelchair or scooter. Make sure it meets your individual needs, can be maintained and is a reasonable price. The following 10-point checklist may help:
try as many makes and types of wheelchair or scooter as possible – you may have to visit several suppliers to see different ranges
ask if you can try a wheelchair at home – this will allow you to check whether the size of the chair is suitable for your home
try it outside on a regular route
check it goes in your car boot and that it works anywhere else you might use it
find out how long delivery time is, and ask if it will be delivered ready for use
check whether it's guaranteed and for how long
check if insurance is available and if it requires you to maintain the wheelchair according to the manufacturer's guidance
ask if the retailer keeps spare parts in stock or if they need to order them – if so, how long is the wait
check if the retailer does repairs or if this is provided by a third party
ask if they do home visits, or take the chair or scooter away for repair
check whether it will be collected and delivered for repairs, and whether you will get a free replacement
find out what other people think about a particular wheelchair or scooter – online forums may help here
Wheelchairs for children
Children's wheelchair needs are different from adults'. They need smaller chairs that can be adapted as they grow.
If your child has been assessed as needing a wheelchair, you may want to contact a charity such as Whizz Kidz or Go Kids Go. These provide wheelchair skills training for disabled young people.
More info on mobility equipment
Media last reviewed: 27 Apr 2015
Media review due: 18 Apr 2018
Page last reviewed: 26/03/2018
Next review due: 26/03/2021