Stay gas safe this summer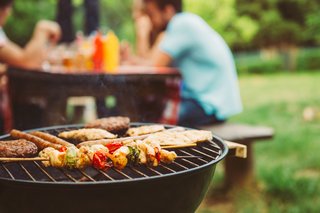 Gas safety is just as important in the summer as it is in the winter. Poorly maintained appliances and boilers can cause carbon monoxide poisoning, which can be fatal. Find out how you can keep safe.
Gas central heating may be turned off in the summer, but your boiler is still being used for hot water and you might use a gas cooker.
Many of us also own a gas barbecue that we use to to enjoy simple meals outdoors.
How do appliances cause carbon monoxide poisoning?
Carbon monoxide (CO) is a poisonous gas produced when fuel such as gas (or charcoal or petrol) burns incompletely.
Inadequately installed or poorly maintained appliances and boilers increase the risk of carbon monoxide being produced.
You can't see, taste or smell carbon monoxide. The Health and Safety Executive (HSE) reported that last year around 350 people were killed or injured due to carbon monoxide poisoning.
It's important to look out for the warning signs of carbon monoxide poisoning and seek urgent medical attention from your GP or accident and emergency department.
It's not always possible to check gas appliances for signs they're not working properly, such as lazy yellow flames instead of crisp blue ones.
It's better to make sure that all gas appliances are checked annually by a Gas Safe engineer.
Gas safety checklist
If you're going on holiday in the UK or abroad, follow these tips to protect yourself and your family.
All gas appliances, including gas barbecues, should be given an annual safety check by a Gas Safe registered engineer.

By law, all gas appliances in rented properties in the UK, whether a long-term rental or short-term holiday let, must have an annual safety check. This also applies to motorhomes and caravans. Ask to see the current gas safety record.

Never use a smouldering or lit barbecue (gas or charcoal), gas or paraffin stove, light or heater in a tent, caravan, motorhome or under an awning unless it's a permanent fixture that's been installed and maintained correctly.

Make sure you know how to use any gas appliances, including barbecues. This is to help prevent the risk of fire and carbon monoxide poisoning.

Fit a carbon monoxide alarm in your home, preferably one that emits an audible signal. Make sure it's approved to the latest British or European Standard (BS Kitemark or EN 50291). Take a portable one with you on holiday and, particularly when taking it abroad, make sure it'll work at your destination.
Page last reviewed: 24 May 2018
Next review due: 24 May 2021