Hummus and salad wrap recipe
Simple to make and fun to eat. Try serving with cherry tomatoes, and some mixed berries with low-fat Greek style yoghurt.
Prep: 10 mins
Serves 1
Nutritional information

Per serving (main recipe only – does not include extras or drink):

1,469kJ / 351kcal
13.0g fat of which saturates 2.7g
42.4g carbohydrate of which sugars 3.9g
10.3g fibre
10.8g protein
1.6g salt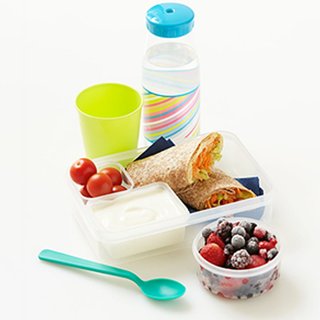 Ingredients
2 tablespoons reduced-fat hummus
1 large wholemeal wrap
1 small carrot, grated
small wedge of lettuce, to give 2 tablespoons when shredded
Complete your lunchbox with:
5 cherry tomatoes
2 tablespoons frozen mixed berries and 3 tablespoons low-fat Greek style yoghurt
150ml fruit juice drink (with no added sugar) or 200ml water
Method
Spread the hummus over the wrap, then sprinkle on the carrot and lettuce.

Information:

If you're using a shop-bought hummus, choose a reduced-fat version. Or make your own – it's easy with our recipe for creamy hummus dip!

Fold opposite edges of the wrap, to keep the filling in, then roll up and cut in half.

Information:

For the snack, pop the frozen fruit in a small pot and it will thaw by lunchtime. The kids will love mixing and swirling their yoghurt into it.