Creamy hummus dip with pitta bread and vegetable sticks recipe
This creamy dip is fun to eat and makes a change from sandwiches. This works well with a banana and a pot of sugar-free jelly.
Prep: 10 mins
Serves 1
Nutritional information

Per serving (main recipe only – does not include extras or drink):

1,906kJ / 454kcal
15.6g fat of which saturates 2.8g
57.1g carbohydrate of which sugars 8.5g
10.8g fibre
15.9g protein
0.9g salt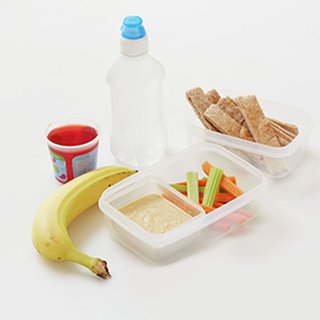 Ingredients
2 heaped tablespoons tinned chickpeas
Juice of half a lemon
1 tablespoon low-fat Greek style yoghurt
1 tablespoon olive oil
¼ teaspoon paprika (or to taste)
¼ teaspoon cumin (or to taste)
1 clove of garlic (peeled)
1 large wholemeal pitta bread, cut into strips
1 small carrot, cut into sticks
1 stick of celery, cut into sticks
Complete your lunchbox with:
banana
sugar-free jelly pot
small bottle of water
Method
Put the chickpeas, lemon juice, yoghurt, oil, spices and garlic in a bowl.

Using a hand blender, mix together until smooth.

Information:

Make the hummus the previous evening and store in the fridge. As well as saving time, the flavours will have time to develop.

Serve with the pitta bread strips and carrot and celery sticks.

Information:

Hummus makes a great after-school snack. If you're using a shop-bought hummus, choose a reduced-fat version.