Egg mayonnaise and lettuce bap recipe
Eggs are a great source of protein for kids that are growing. This works well in a lunchbox with some cherry tomatoes and a fruit snack pot.
Prep: 10 mins
Cook: 12 mins
Serves 1
Nutritional information

Per serving (main recipe only – does not include extras or drink):

1,444kJ / 344kcal
11.4g fat of which saturates 2.4g
39.4g carbohydrate of which sugars 3.5g
7.1g fibre
17.3g protein
1.2g salt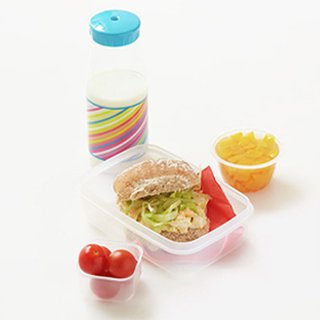 Ingredients
1 egg
1 level tablespoon reduced-calorie mayonnaise
large pinch of black pepper
1 large wholemeal bap
small wedge of lettuce, to give 2 tablespoons when shredded
Complete your lunchbox with:
5 cherry tomatoes
fruit snack pot (tinned fruit in juice)
200ml semi-skimmed milk
Method
Place the egg in a small saucepan covered with water, bring to the boil and cook for 10 minutes. Plunge in cold water and leave to cool.

Information:

Cook the egg the night before to save time in the morning rush.

Remove shell and mash the egg with the mayonnaise and pepper.

Use to fill the bap, topping with the lettuce.

Information:

Try cress or baby spinach instead of the lettuce. Pat it dry before adding to the bap, to avoid soggy bread.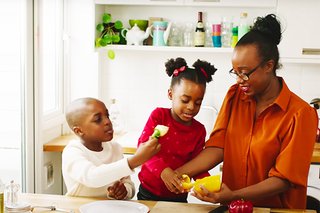 Get the family involved and make tasty meals from scratch!
Every week for 4 weeks you will get 2 healthy recipes – with videos, easy-to-follow instructions and a shopping list – straight to your inbox.