Cheesy coleslaw with wholemeal pitta recipe
Crunchy, cheesy coleslaw in a pitta makes a change from traditional sandwiches. Try serving with 5 cherry tomatoes and a small box of raisins.
Prep: 10 mins
Serves 1
Nutritional information

Per serving (main recipe only – doesn't include extras or drink):

1,478kJ / 351kcal
8.4g fat of which 3.4g saturates
47.8g carbohydrate of which 10.1g sugars
7.3g fibre
17.4g protein
1.2g salt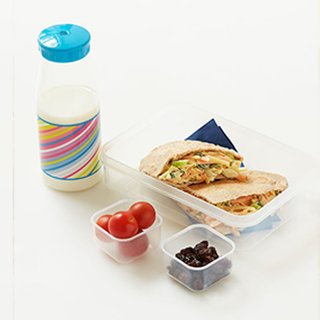 Ingredients
1 teaspoon reduced-calorie mayonnaise
1 tablespoon low-fat Greek style yoghurt
1 thin slice of white cabbage, shredded (to give a handful)
1 small carrot, grated
2 spring onions or a slice of onion, chopped
20g reduced-fat cheddar cheese, finely chopped or grated
Parsley, chopped (optional)
1 large wholemeal pitta bread
Complete your lunchbox with:
5 cherry tomatoes
1 tablespoon low-fat Greek style yoghurt
200ml semi-skimmed milk
Method
In a bowl, mix the mayonnaise and yoghurt.

Add the vegetables, cheese and parsley (if using). Mix well.

Information:

The coleslaw keeps well in the fridge so make it the evening before to help with the morning rush!

Carefully split open the pitta bread and fill with the coleslaw.

Information:

Simply double the quantities if you have 2 lunchboxes to prepare.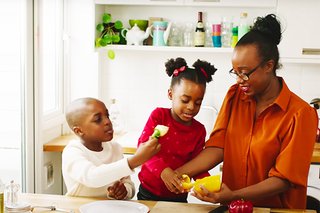 Get the family involved and make tasty meals from scratch!
Every week for 4 weeks you will get 2 healthy recipes – with videos, easy-to-follow instructions and a shopping list – straight to your inbox.