Tuna and bean salad recipe
This colourful salad is a good way to include fish in your child's lunchbox. This would work well with a slice of malt loaf and a satsuma.
Prep: 10 mins
Serves 1
Nutritional information

Per serving (main recipe only – does not include extras or drink):

1,362kJ / 325kcal
14.4g fat of which saturates 2.4g
23.2g carbohydrate of which sugars 3.3g
6.4g fibre
22.5g protein
1.1g salt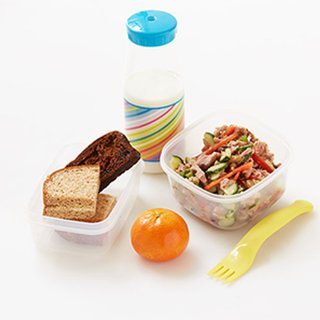 Ingredients
3 teaspoons olive oil
juice of half a lemon
large pinch of dried mixed herbs
large pinch of mustard powder
large pinch of black pepper
1 slice of pepper, chopped
2 spring onions, sliced
3cm piece of cucumber, chopped
1 heaped tablespoon canned mixed beans in water, drained
half a 160g can of tuna in spring water, drained
1 thick slice of wholemeal bread and lower-fat spread
Complete your lunchbox with:
a satsuma
slice of malt loaf
200ml semi-skimmed milk
Method
Mix the oil, lemon juice, mixed herbs, mustard powder and black pepper.

Add to the salad vegetables, beans and tuna and mix gently.

Information:

Double the recipe to use the rest of the can of tuna and save for the next day.

Serve with the bread and lower-fat spread.

Information:

This would also work well with cold pasta as a pasta salad, instead of serving with bread.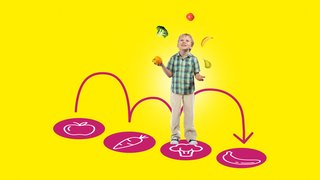 Want the recipe for a healthier family? Join today and over 8 weeks you'll get easy tips from nutrition experts and parents, healthy swaps and tasty recipes on a budget.