Lose weight
If you're overweight, losing weight has many health benefits. Making small, simple changes to what and how much you are eating and drinking can really help you lose the pounds.
Download the free NHS weight loss plan
Download the free NHS weight loss plan to help you start healthier eating habits, be more active, and start losing weight.
The plan is broken down into 12 weeks so you can:
set weight loss goals
use the BMI calculator to customise your plan
plan your meals
make healthier food choices
get more active and burn more calories
record your activity and progress
Don't worry, the app makes it easy for you – just take it one week at a time. Let's make "one day" today!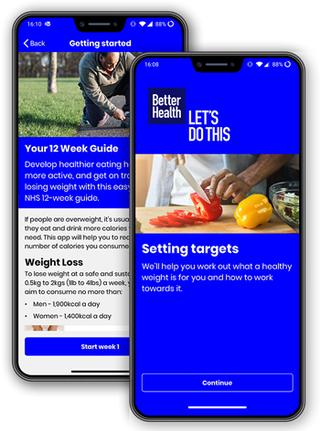 Did you know?
Small changes (like swapping sugary drinks for water or ditching sugar from your tea) can make a big difference in the long term.
Get active
Being healthier is not just about what you eat, it's also about regular physical activity (even 10 minutes a day counts).
Check out our tools and tips on weaving exercise into your daily routine.
Why should I lose weight?
Gaining weight is often a gradual process – it happens over the years as a result of modern-day life and the odd unhealthy habit.
Extra weight causes fat to build up around vital organs, making it harder for the body to fight against diseases like cancer, heart disease and now COVID-19.
If you are overweight or living with obesity, lowering your weight can help reduce your risk of developing serious diseases.
You can learn more about obesity and get support from Obesity UK, the leading charity dedicated to supporting people living with obesity.
Did you know?
Veggies keep you full for longer. They are low in calories and high in fibre – they make great snacks too.
Type 2 diabetes
Type 2 diabetes is a common condition that causes the level of sugar (glucose) in the blood to become too high. We can reduce the risk of type 2 diabetes by:
eating more healthily
losing weight
getting more physically active
For more information, check your risk score. If you are at high risk, you may be eligible for the free NHS Healthier You service – speak to your GP to find out more.
Dietary advice
Better Health cannot provide individual dietary advice. If you, or someone you care for, have special dietary requirements, medical needs, or an eating disorder - please seek advice from a registered healthcare professional.