Get active
It's the perfect time to get active. No matter how much you do, physical activity is good for your body and mind. Adults should aim to be active every day. Some is good – more is better still.
A daily brisk walk can give your body a boost, lift your mood and make everyday activities easier.
Try these tools, tips and special offers to move more every day.

Couch to 5K
A running programme for absolute beginners, Couch to 5K has helped millions of people like you start running.
The app:
has a choice of 5 trainers to motivate you
works with your music player
tracks your runs
connects you with other Couch to 5K runners
Couch to 5K can be completed in as little as 9 weeks, or longer if you want to go at your own pace.

Active 10
The Active 10 app anonymously records every minute of walking you do. Just pop your phone in your pocket and away you go!
The app:
tracks your steps
helps you set goals
shows you your achievements
gives you tips to boost your activity
Did you know walking briskly, even for 1 minute, counts as exercise? What are you waiting for - take your first steps today!
Did you know?
To stay fit and healthy, it's recommended you get at least 150 minutes of moderate physical activity a week, or around 20 to 30 minutes a day.
More help to get active
There are so many different ways you can increase your activity. We have teamed up with some fantastic organisations to bring you these special offers.
Get going for free
Did you know?
If you're doing more intense exercise, aim for at least 75 minutes a week. This could include:
walking up the stairs
rope-skipping
running
aerobic workout videos
Getting active with a disability
Whatever your level of physical ability, there are lots of ways to get active. The important thing is to get moving in a way that works for you.
The following organisations have free tips, resources and tools to help you get started.
Activity Alliance
Enjoy an active lifestyle with support from Activity Alliance. Information on how to start exercising and inclusive activities.
We Are Undefeatable
Ideas, advice and other support for ways to get active if you are managing a long-term health condition. The fully accessible, customisable 5-minute mini-workout is a great place to start.
Take care of your mind too
Your mental wellbeing is just as important as your physical health.
Answer 5 quick questions to get your free mind plan from Every Mind Matters – including tips to help you deal with stress and anxiety, improve your sleep, boost your mood and feel more in control.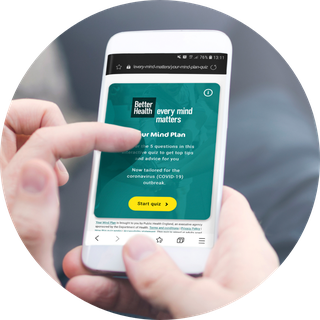 Why should I get active?
Being active is good for your mind and body. Every minute of activity counts – and the more you do, the more you'll benefit.
Exercise can:
improve your sleep
clear your mind
boost your energy
help with back or joint pain
Exercise can also reduce your risk of developing heart disease, stroke, type 2 diabetes, dementia, Alzheimer's disease and some cancers.
Make a start today – it's never too late!
Lose weight
As well as regular exercise, making healthier food choices will also help shed the pounds.
Have a look at our tools and tips on easy ways to eat better.