Featured recipe
What you eat, and how much, is so important for your health and your waistline.
Cooking healthier food at home is a small, simple change that can have big benefits in the long run. We're showcasing easy recipes to help you on your way.
Give this one a go to get started today – and make sure to check back next month for another. Let's do this!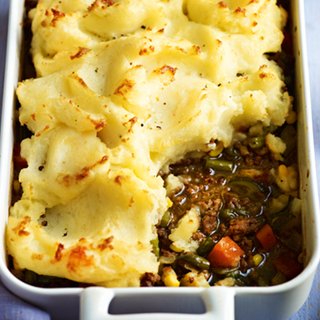 Classic cottage pie
Prep time: 15 minutes
Cooking time: 45 minutes
Serves 4
Ingredients
1kg potatoes, washed and cut into chunks
350g extra-lean minced beef
1 small onion, finely chopped
1 carrot, chopped
1 courgette, finely chopped
100g green beans, chopped
50g sweetcorn
450ml cold water
4 teaspoons reduced-salt gravy granules
1 teaspoon dried mixed herbs
1 pinch ground black pepper
Instructions
Cook the potatoes in a large saucepan of boiling water until tender, about 20 minutes.
Meanwhile, heat a large saucepan and add the minced beef a handful at a time, cooking until browned.
Stir in the onion, carrot, courgette, green beans and mixed herbs. Add 450ml water and bring to the boil. Simmer without a lid for 20 minutes.
Preheat the grill and warm a large baking dish under it for 1 to 2 minutes. Drain and mash the potatoes, seasoning them with some pepper.
Add the sweetcorn to the mince mixture, then sprinkle in the gravy granules, stirring until thickened. Season if needed, then tip into the baking dish.
Spoon the mash on top, spreading it out to cover the mince, and grill for a few minutes until browned. Serve immediately.


Tips
To make a veggie version, swap in vegetarian mince and gravy granules.
Try grating the courgette for a different texture.

Nutritional information
Per portion
1,531kJ / 363kcal
25.5g protein
5.3g fat, of which 2.6g saturates
49.7g carbohydrate, of which 5.6g sugars
7.2g fibre
0.8g salt

Download the Easy Meals app
With the Easy Meals app, you will have more than 150 delicious, easy, healthier recipes just a tap away.
Search by mealtime, save your favourites for easy access and create handy shopping lists.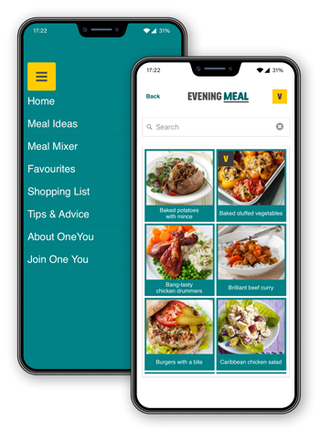 Dietary advice
Better Health cannot provide individual dietary advice. If you or someone you care for has special dietary requirements, medical needs or an eating disorder, please seek advice from a registered healthcare professional. If you would like more information on eating disorders, Beat has lots of useful advice for adults and children.