Featured recipe
What you eat, and how much, is so important for your health and your waistline.
Cooking healthier food at home is a small, simple change that can have big benefits in the long run. We're showcasing easy recipes to help you on your way.
Give this one a go to get started today – and make sure to check back next month for another. Let's do this!
Baked stuffed vegetables
Prep time: 15 minutes
Cooking time: 45 minutes
Serves 4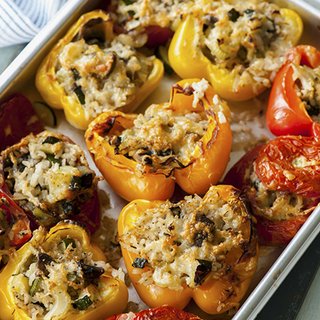 Baked stuffed vegetables
Prep time: 15 minutes
Cooking time: 45 minutes
Serves 4
Ingredients
150g brown or white rice
2 teaspoons vegetable oil
1 large onion, chopped
2 celery sticks, finely sliced
2 garlic cloves, crushed
2 handfuls of sliced mushrooms (cup or button)
1 courgette, chopped
1 teaspoon dried mixed Italian herbs
4 large tomatoes
4 peppers (any colour), cut in half lengthways and deseeded
40g reduced-fat hard cheese, grated
1 pinch ground black pepper
Instructions
Bring a large pot of water to a gentle boil and add the rice.
While the rice is cooking, heat the oil in a large non-stick frying pan and cook the onion, celery, garlic, mushrooms and courgette for 8 to 10 minutes, until soft. Set aside.
Preheat the oven to 190C/170C fan/gas mark 5.
Drain the rice once it's ready, and mix with the cooked vegetables and herbs. Season with black pepper.
Slice the tops off the tomatoes (do not throw them away!), then scoop out and discard the seeds. Arrange the tomatoes in a roasting tin with the pepper halves.
Fill the peppers and tomatoes with the rice mixture, then sprinkle with cheese. Pop the tops back on the tomatoes and bake for 20 to 25 minutes, until the vegetables are tender. Serve topped with a few torn basil leaves (if you have them).


Tips
Aubergines are a great swap for the peppers and tomatoes. Simply cut them in half and scoop out some of the flesh to make room for the filling.
If you end up with too much rice mixture, just serve it on the side when everything's ready.

Nutritional information
Per portion:
1,188kJ/284kcal
10g protein
5.5g fat, of which 2g saturates
51g carbohydrate, of which 19g sugars
6g dietary fibre
0.2g salt
Download the Easy Meals app
With the Easy Meals app, you will have more than 150 delicious, easy, healthier recipes just a tap away.
Search by mealtime, save your favourites for easy access and create handy shopping lists.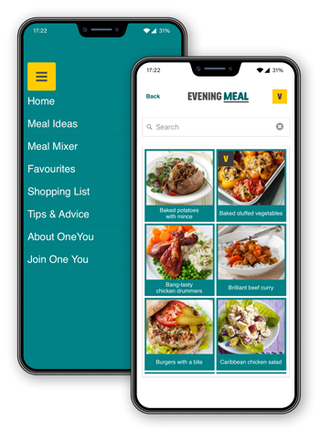 Dietary advice
Better Health cannot provide individual dietary advice. If you or someone you care for has special dietary requirements, medical needs or an eating disorder, please seek advice from a registered healthcare professional. If you would like more information on eating disorders, Beat has lots of useful advice for adults and children.