Featured recipe
What you eat, and how much, is so important for your health and your waistline.
Cooking healthier food at home is a small, simple change that can have big benefits in the long run. We're showcasing easy recipes to help you on your way.
Give this one a go to get started today – and make sure to check back next month for another. Let's do this!
Spiced chicken and vegetable soup
Soups are a brilliant way to help towards your 5 A Day! Packed with vegetables and a spicy kick, this one's the perfect winter warmer.
Prep: 15 mins
Cook: 30 mins
Serves 4
Nutritional information

Per portion:

919kJ / 219kcal
20.4g protein
19.9g carbohydrate, of which 17.4g sugars
4.9g fat, of which 0.9g saturates
6.7g fibre
0.6g salt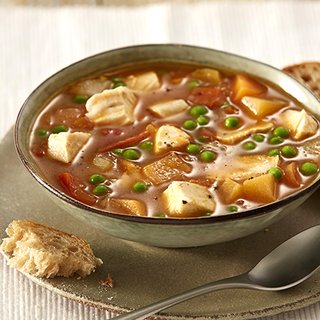 Ingredients
2 teaspoons vegetable oil
1 medium onion, chopped
1 garlic clove, crushed
2 carrots, chopped
250g swede, turnip or parnsip, chopped
1 apple, peeled, cored and chopped
1 tablespoon curry powder
0.5 teaspoon cumin seeds (optional)
1 litre reduced-salt vegetable or chicken stock
400g tomatoes, chopped
200g cooked chicken, skin removed, chopped
50g frozen peas
4 tablespoons low-fat natural yoghurt
1 pinch fresh mint (optional)
Instructions
Heat the vegetable oil in a large saucepan and gently fry the onion and garlic for 2 to 3 minutes, until softened. Add the carrots, apple, and the swede, turnip or parsnip. Cook for another 2 minutes.

Stir in the curry powder and cumin seeds (if using) and cook gently for a few seconds. Pour in the reduced-salt stock and add the tomatoes.

Information:

If spice is not your thing and you would prefer a Mediterranean flavour, swap the cumin seeds and curry powder for 1 tablespoon of mixed dried Italian herbs, and use basil instead of mint.

Bring up to the boil, then reduce the heat and simmer, partially covered, for about 20 minutes, or until the vegetables are tender.

Add the peas and cooked chicken, and simmer gently for another 3 to 4 minutes. Ladle the soup into warm bowls and serve each portion topped with 1 tablespoon of yoghurt and a few mint leaves (if using), and an optional wholemeal roll if you like.

Information:

For a vegetarian version, switch the chicken for a 400g can of chickpeas in water, drained, and make sure you use vegetable stock.
More mealtime inspiration
We have loads of tasty recipes for you and your family.
Whether you're after a healthier way to kickstart the day, simple ideas to banish boring sandwiches at lunch, or quick and easy mid-week dinners, there's something for everyone.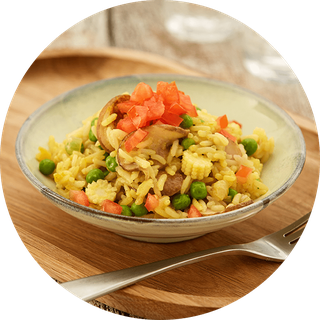 Dietary advice
Better Health cannot provide individual dietary advice.
If you or someone you care for has special dietary requirements, medical needs or an eating disorder, please seek advice from a registered healthcare professional.
If you would like more information on eating disorders, Beat has lots of useful advice for adults and children.