Chilli con carne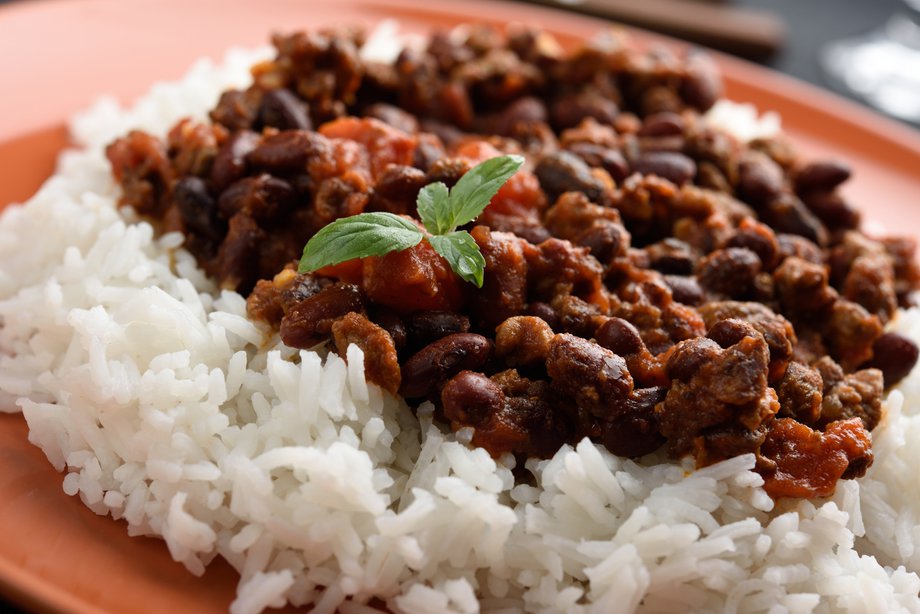 A hot and spicy filler that's high on flavour but low in salt.
Serves: 2

Time: 50 minutes
Ingredients
½ tbsp oil
100g lean mince beef
1 onion, finely chopped
1 garlic clove, finely chopped
400g can of chopped tomatoes
1 tbsp tomato puree
½ tsp chilli powder
¼ tsp cumin
¼ tsp coriander
1 red pepper, chopped
100g mushrooms, sliced
1 small can of kidney beans
black pepper, freshly ground 
150g wholegrain or brown rice, uncooked
The reference intake of an average adult is 8400kJ/2000kcal a day for a woman and 10,500kJ/2500kcal a day for a man.
Method
1. Brown the mince over a gentle heat, stirring to stop it from sticking.
2. Drain any excess fat from the meat, then add the onion and garlic to the mince and cook for 2 to 3 minutes.
3. Add the chopped tomatoes, tomato puree and spices. Bring the sauce to the boil, then lower the heat and simmer gently for 10 to 15 minutes.
4. Meanwhile, cook the rice according to the packet instructions.
5. Add the chopped pepper and sliced mushrooms and simmer for 5 minutes.
6. Add the drained kidney beans and simmer for another 5 minutes.
7. Add the pepper to taste and serve with boiled rice.
Other options
Serve any leftover sauce with baked potatoes.
Nutrition information
| Nutrient | Per 100g | Per 634g serving |
| --- | --- | --- |
| Energy | 299kJ/71kcal | 1898kJ/452kcal |
| Protein | 2.8g | 17.7g |
| Carbohydrate | 12.9g | 81.9g |
| (of which sugars) | 1.3g | 8.0g |
| Fat | 1.3g | 8.5g |
| (of which saturates) | 0.3g | 1.9g |
| Fibre | 0.5g | 3.3g |
| Sodium | 0.07g | 0.4g |
| Salt | 0.2g | 1.1g |
Food safety tips
always wash your hands, work surfaces, utensils and chopping boards before you start preparing food and after handling raw meat
keep raw meat away from ready-to-eat foods such as salad, fruit and bread
any leftovers should be cooled within 1 to 2 hours and placed in the fridge (for up to 2 days) or frozen
when reheating, always make sure the dish is steaming hot all the way through before serving
never reheat food more than once
cook the rice as required and use immediately, or cool within 1 hour, refrigerate, then use within 24 hours. When you reheat any rice, always check the dish is steaming hot all the way through. Do not reheat rice more than once
Page last reviewed: 07/03/2018
Next review due: 07/03/2021