Sports and activities
Sports and active hobbies are a great way to get moving, which is really good for everyone's physical and mental health.
Getting kids moving and having fun again has never been more important, and it all counts towards the 60 minutes of physical activity (including 30 minutes outside of school) they need every day.
Sports you might love
See more ideas, information and ways to try new sports or activities. It's time to find a new favourite!
Athletics

Athletics offers the widest range of choice of any sport as its various disciplines provide the opportunity to throw, run or jump. Why not grab your friends and some props, head to the park and create your own mini athletics competition?

For more information or to find local athletics opportunities visit England Athletics.
Badminton

Badminton is a brilliant way to get into racket sports. It really gets you moving and helps develop coordination, agility and balance.

You can play in an indoor sports hall or outdoors, and it's a great summer sport for the back garden or the park. All you need is a couple of rackets, a shuttlecock and something to mark out the court – anything from jumpers to skipping ropes will do!

Visit Badminton England for more information and places to try it out locally.
Basketball

You don't have to be tall to play basketball! It's a sport that really has it all: running, jumping, dodging, throwing and catching.

You can often find basketball hoops at local playgrounds or sports courts, but really all you need to play is a ball and something to aim at or through! Or you can practise dribbling with a ball, or throwing and catching passes against a wall.

To find out more about basketball and opportunities to play locally, visit Basketball England.
Boccia

In boccia, the aim is to get a ball as close as possible to a target by throwing, rolling, pushing or kicking it. It's fully inclusive, designed specifically for players with physical disabilities. You sit down to play, and you can do it solo or in a team. It really is the sport for everyone!

Find out more about boccia, including how and where to play, at Boccia England.
Climbing

Climbing is great fun, uses every part of your body and can give you an amazing sense of achievement. It's really thrilling to reach your goal and look back at where you started!

But you don't have to be scaling mountains to get going – climbing walls can be found in many sports centres, and there are often climbing frames to clamber around in local parks or playgrounds.

For more on getting started climbing and local opportunities, visit the British Mountaineering Council.
Cricket

Cricket is the perfect summer sport when it comes to teamwork and individual play. Across batting, bowling and fielding, it develops a range of skills, including coordination, agility and strength.

There are also loads of different ways to play, from full matches to Qwik Cricket, or even just in the back garden or down the park – all you need is a bat, a ball and something to use as stumps.

The England and Wales Cricket Board has more information on getting started and playing locally.
Cycling

Kids love cycling – it's great fun, helps them feel independent, and keeps them fit and healthy. Riding a bike helps fine-tune motor skills, such as balance and co-ordination, as well as building up strength in their legs and core.

Cycling as a family makes a great day out. All you need is a roadworthy bike (either new or secondhand) that's the right size for your child, some basic safety gear, including a helmet, and a little bit of practice.

Visit Ready Set Ride to learn how to get started.
Dancing

Whether it's in a class or at home to your favourite tunes, dancing is great fun and gets your heart beating that little bit faster.

As well as being a really fun form of exercise, dance is a way for kids to express their creativity, imagination and emotions. Dancing can also increase your child's flexibility, range of motion, physical strength, and stamina.

The brilliant thing about dancing is it's free, you don't need any special kit and you don't even have to leave the house. So go on, put on some music and give it a try!

You can also visit our partners One Dance UK and People Dancing for plenty more information to help get you started.
Football

For a club, down the park, in the garden, indoors or out, rain or shine… You can play in a full team, in a small group or practise your skills on your own. The only thing you need is a ball!

Whether you're scoring goals or saving them, football is brilliant all-round exercise. Visit the Football Association to find out how to get started.
Gymnastics

When it comes to sports with a high fun factor, gymnastics is right up there with the best and makes an excellent activity for the school holidays. Left to their own devices, kids can often be found throwing themselves around, jumping, diving, rolling and cartwheeling, so what better way to get started?

And quite apart from the fun, gymnastics is a form of exercise that really takes it all: agility, flexibility, strength, balance, stamina and precision. And with so many different varieties, there's something for everyone.

British Gymnastics has all the information you need to get started and find opportunities near you.
Hockey

As a fast-paced, end-to-end sport, field hockey is a fantastic way for people to get moving and develop coordination as part of a team. 

From smaller-sided games and children-focused Quicksticks to social games and walking hockey, there's something for everyone to try, no matter your age, ability or health.

Find out more about the different types, how to get started and places to play near you by visiting the England Hockey website.
Martial arts

With so many different types – from judo and karate through to taekwondo, jiu jitsu, kung fu, tai chi and many more – there are plenty of martial arts to try.

As an indoor sport, martial arts are great all year round, as well as a brilliant way to improve balance, strength, coordination and agility.

For more information about how to get involved in your local area, visit Martial Arts Near You.
Netball

Netball is already one of the most widely played sports in England and is only becoming more popular.

Not only is it fantastic exercise, but it's non-contact too and, with all its different positions and roles, it's also a brilliant team sport that can be played indoors or outdoors.

Visit England Netball to learn more and find opportunities to play locally.
Rounders

Easy to set up and play, rounders is the ultimate park game when you're in a group. Like cricket, it uses and develops a real variety of different skills and roles, so it's great fun for everyone.

To find out more about rounders and for opportunities to get involved locally, visit Rounders England.
Rowing

Whether it's for fitness or just a fun family activity on a nice day, rowing is a really good time and really good for you.

You can do it on an indoor rowing machine, at home or in your local gym, or on the water. And with adaptive rowing, it's an activity that is fully inclusive.

Find more information and places where you can try it locally by visiting British Rowing.
Rugby

Rugby is a fantastic way to get moving and build skills like throwing, catching, kicking, jumping and dodging.

It comes in 2 different codes, rugby union and rugby league, that have slightly different rules as well as different sizes of team, while organising a game of easy-to-play touch rugby in the park is a really fun way to spend the afternoon.

Visit England Rugby to find out how to get involved.
Running

Kids love to run, and it's one of the simplest and easiest ways to be active. There are so many ways you can get going – from jogging to school to running relay races down the park with their friends! And as a sport, all they need to get started is a pair of running shoes.

Running in races teaches kids about healthy competition, setting goals and achieving them, but it also can improve their performance in other sports, as it helps them develop core and back strength, endurance and co-ordination. These all play an important role in activities like gymnastics, dance and football.

England Athletics can help you find a local club for more on getting started.

Parkrun has more than 350 free junior events that take place every Sunday.
Skateboarding and roller sports

Skateboarding, rollerskating, rollerblading and scooting are all excellent, entertaining ways to develop balance, coordination and agility.

You can practise indoors or outdoors, with friends or by yourself, and visiting a roller rink makes for a fun family outing at the weekend or during the holidays.

Find out where to skate locally at The Skateparks Project.
Swimming

Swimming is an excellent way for kids to get moving and have fun, and is also a skill that could save a life.

It's a really good all-round exercise, and a fun way to be more active and stay healthy. Being in the water also boosts your mood and helps you unwind — and there are lots of different strokes to try.

From top tips for learners to how to practise key swimming skills, Swim England has lots of information to help children build their confidence in the water.
Table tennis

Just as fun having a friendly few rallies as it is playing a competitive match – and with tables and equipment often available in public spaces – table tennis is the ultimate game to just pick up and play.

And with its combination of movement, speed and coordination, it's a brilliantly engaging way to get active.

Table Tennis England has all the information you need to get started and find opportunities to play near you.
Tennis

While tennis is obviously a brilliant summer sport, it can also be played all year round! It's so much fun and really good for you, too.

The LTA has all the information you need to get started and find ways to play in your local area.
Volleyball

You might think of the beach when you think of volleyball, but it can actually be played pretty much anywhere – no sand required!

Fun and sometimes frantic, volleyball is an excellent way to use a whole range of different skills and abilities, and can be played with any number of players.

Visit Volleyball England for more information on getting started and opportunities to play near you.
Yoga

Yoga is more popular than ever, and it's easy to see why. It's a brilliant, safe way to improve strength, flexibility and balance, and learn different breathing techniques.

It's the perfect activity to do as part of a group or class, or you can practise by yourself or as a family once you've learnt the poses and breathing techniques.

For more information about getting started, visit Yoga Class Near You.
Skip the sofa! Over 8 weeks you'll receive easy tips and Disney themed games to help your family move more. Taking one small step after another can soon add up to make a big difference!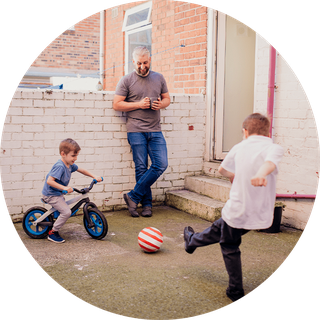 The benefits of moving more
Being active isn't just about feeling stronger, fitter, more energetic and sleeping better. It's also about having fun!
Kids need to be active for at least 60 minutes a day, with 30 minutes of this outside of school. This should include 3 sessions a week of activity that strengthens muscles and bones, so mix it up!
And it's not just physically that kids benefits – being active also helps with mental health.
Evidence shows that children and young people who are more active have more confidence, higher self-esteem, less anxiety and stress, and better social skills – attributes that can help them deal with the challenges they face in daily life.
Having a positive attitude towards physical activity has also been associated with children being happier.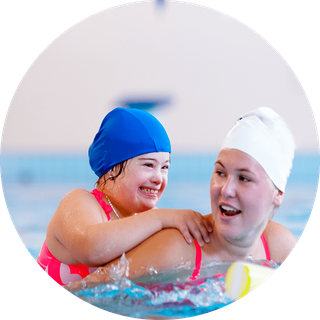 Getting a little extra help
It is equally important that children with disabilities are active, for their health and development – and more importantly – to have fun and make friends.
It can often be difficult to find suitable options, but there are more out there than you think. The Activity Alliance is a good place to start for more information.