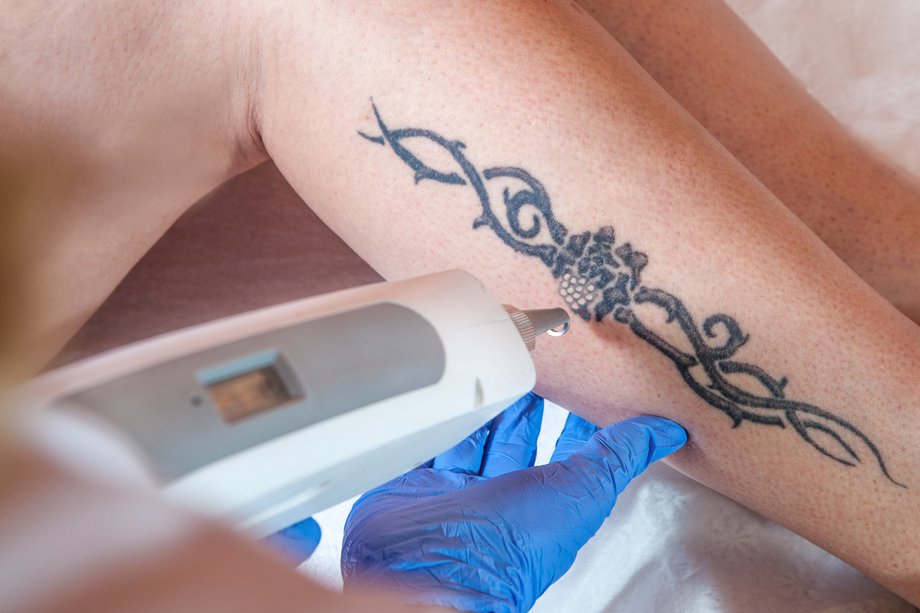 Unwanted tattoos can be removed gradually over a series of sessions using a laser.
The energy from the laser breaks down the tattoo ink into tiny fragments, which are eventually absorbed into the bloodstream and safely passed out of the body.
This process is rarely carried out on the NHS.
Before you go ahead…
If you're thinking of having a tattoo removed, you should be prepared for the potential discomfort and the limitations. 
Cost:  In the UK, private clinics charge about £150 a session to remove a small tattoo and up to £800 for a larger one.
Limitations:
It can be a frustratingly slow process: 10 or more sessions may be needed to remove the tattoo.
Many tattoos are not entirely removed – it's quite common to have some fragments left in the skin.
Some colours don't fade as well as others.
Tattoo removal is not recommended for people with dark skin, a suntan or fake tan. It's not suitable if you're in the early stages of pregnancy, although there are no known risks for women who are breastfeeding.
Safety:  Take time to find a reputable practitioner who practises in a clean, safe and appropriate environment. Ask the practitioner what you should do if something were to go wrong.
What it involves
If you have hair on the area of skin to be treated, you'd need to shave before the appointment.
On the day, you'd wear specially designed goggles to protect your eyes during the procedure. A local anaesthetic cream may be applied.
The practitioner would then press a hand-held device to your skin and trigger a laser. Some people say this feels like an elastic band snapping at your skin.
The session would take about 10-30 minutes, depending on the size of the tattoo.
The tattoo should become progressively lighter with each treatment, but it's a long, slow process.
Aloe vera gel would be applied afterwards, and you may leave with a bandage or patch.
Afterwards
The skin may be red with a raised rash for a short while afterwards. Holding an ice pack to the skin may help (try a pack of frozen peas wrapped in a tea towel).
Your skin would also be more sensitive to the sun, so you'd need to avoid sun exposure and tanning beds for at least a week afterwards, and use sunscreen.
As treatment sessions progress, the skin may bleed slightly before scabbing over for about a week.
It may help to regularly apply aloe vera gel, and apply Vaseline if there is any blistering or scabbing.
You should also avoid:
soap or perfumed products on the area for the first 48 hours
strenuous activities for a couple of days
swimming and saunas until the scab has dropped off (as these may slow the healing process)
Risks
Possible risks are:
some colours not completely fading – yellow, green and purple ink requires more energy (more sessions) to fade than black, blue and red
a small chance your skin may become temporarily darker or paler than the surrounding skin
a slight chance you're left with a permanent scar (3 in 100 patients develop a scar)
What to do if you have problems
If you experience problems with healing, rashes or skin pigmentation changes, take up the matter with your practitioner through the clinic where you were treated.
It is best that you go back to the practitioner who treated you if there are any complications. If this is not possible, you can go to your GP or local accident and emergency (A&E) department.
Page last reviewed: 19 May 2016
Next review due: 19 May 2019