Whoops something went wrong
We're having troubles updating this score right now, check back later to try again.
Vegetable jalfrezi recipe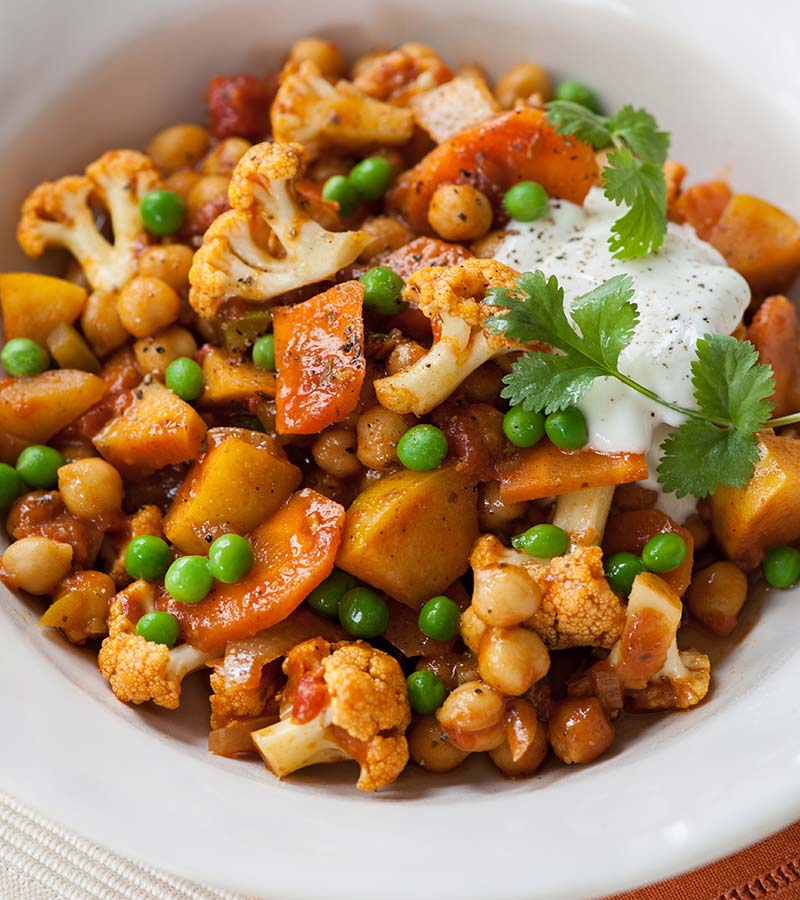 2 tsp vegetable oil
2 medium onions, chopped
1 medium apple, cored and chopped
1 garlic clove, crushed
2 tbsp jalfrezi curry paste
1 carrot, sliced
1 green pepper, deseeded and chopped
400g tomatoes, chopped
3 handfuls cauliflower, broken into florets
410g chickpeas in water, rinsed and drained
300ml reduced-salt vegetable or chicken stock
180g easy cook long grain brown rice
50g fresh or frozen peas
2 tbsp fresh coriander, chopped (optional)
4 tbsp low-fat natural yoghurt, to serve
1 pinch ground black pepper
Nutritional information

Nutritional analysis, per serving (1/4 recipe)

1,678kJ / 401kcal
15g protein
68.5g carbohydrate, of which 19g sugars
9g fat, of which 1g saturates
8g fibre
404mg sodium, equivalent to 0.9g salt
Heat the vegetable oil in a large saucepan. Add the onions, apple and garlic and cook, stirring, for 3 to 4 minutes. Stir in the curry paste and cook for a few seconds.
Add the carrot, pepper, tomatoes, cauliflower, chickpeas and stock. Simmer, partially covered, for 25 to 30 minutes, adding a little extra stock or water if needed. At the same time, cook the rice in a large saucepan of gently boiling water. It will take about 30 minutes.
Add the peas and coriander (if using) to the curry and heat for 2 to 3 minutes. Check the seasoning, adding a little ground black pepper if needed.
Serve the vegetable curry on warmed plates, with the rice, topping each portion with 1 tablespoon of low-fat yoghurt.