Whoops something went wrong
We're having troubles updating this score right now, check back later to try again.
Sweet potato chips with simple salsa recipe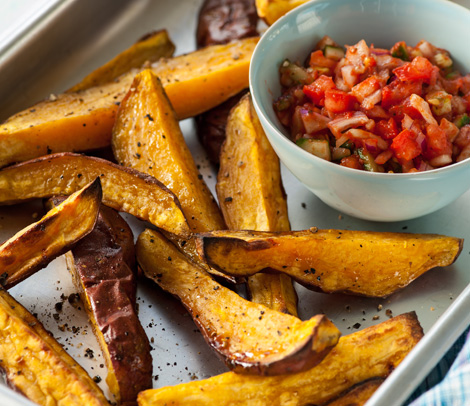 4 medium-sized sweet potatoes (about 1kg total), scrubbed
2 tsp vegetable oil
2 tomatoes, finely chopped
1 small red onion, or 4 spring onions, finely chopped
¼ cucumber, finely chopped
4 tbsp tomato purée
1 pinch ground black pepper
Preheat the oven to 200C/fan oven 180C/gas mark 6.
Slice each sweet potato lengthways into 6 wedges and put them in a roasting tin. Add the vegetable oil, season with black pepper and toss to coat. Roast in the oven for 35 to 40 minutes, or until tender, turning them over after 20 minutes.
While the veg is roasting, make the salsa by mixing the tomatoes, onion, cucumber and tomato purée.
Serve the sweet potato wedges with the salsa on the side.