Whoops something went wrong
We're having troubles updating this score right now, check back later to try again.
Chicken and vegetable parcels recipe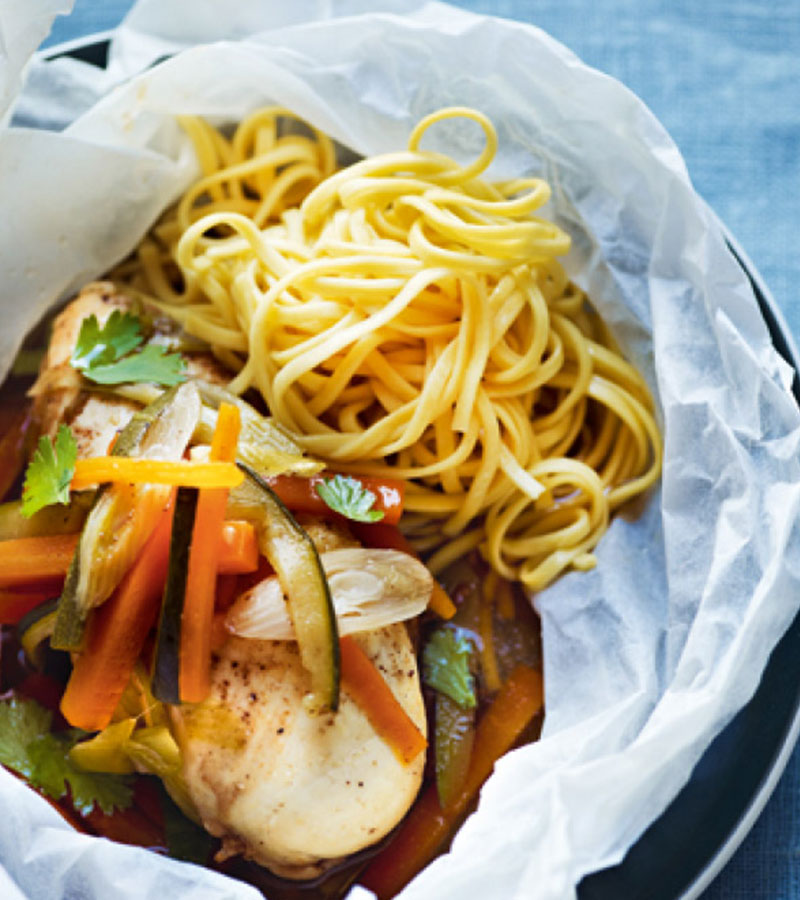 4 uncooked skinless, boneless chicken breasts
4 spring onions, trimmed and sliced
1 carrot, cut into matchstick strips
1 courgette, cut into matchstick strips
1 tsp Chinese 5-spice powder
1 tsp ground ginger
2 tsp reduced-salt soy sauce
1 pinch ground black pepper
Nutritional information

Nutritional analysis, per adult portion (¼ recipe)

158 kcals / 660kJ
29g protein
3g fat, of which 1g saturates
4g carbohydrate, of which 3g sugars
1g fibre
79mg sodium, equivalent to 0.2g salt
Cut 4 pieces of greaseproof paper or baking parchment, each measuring approximately 30cm square. Put each chicken breast onto a separate square of greaseproof paper.
Mix the vegetables together and place an equal amount on top of each piece of chicken. Sprinkle with 5-spice powder (if using), the ginger, soy sauce and black pepper.
Fold up the paper to wrap up the chicken completely. Put the parcels into a steamer, cover and steam for 35 to 40 minutes.
Check that the chicken is properly cooked by unwrapping one of the parcels and inserting a sharp knife into the thickest part. The juices should run clear with no traces of pink.
Serve the chicken in the parcels, along with vegetables and noodles, rice or potatoes.