Crush and Squirt's Turtle Travel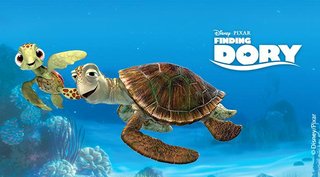 Whoa dude! It's time to catch a wave like Crush and Squirt, can you make it onto the right current?
Players: 1 or more
Where to play? Indoors or outdoors
How to play
To get started you will need to make a Squirt-style turtle by filling up socks then tying them up. Use old newspaper, other socks or anything soft and light.

---

Lay out a T-shirt each on the floor, as this will be the current.

---

Everyone takes it in turns to be like Crush. Facing backwards, throw your turtle over your shoulder, aiming to land it on the current.

---

If you miss, you have to "paddle" on the current to get it back by crawling on your hands and knees.

---

Keep going until your turtle lands perfectly. If it's too easy, move your T-shirt further away!