Luigi and Guido Tyre Tumble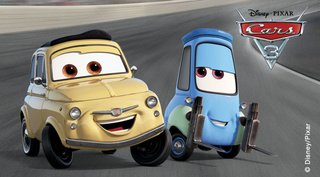 In the pit stop, Luigi and Guido must work as a team as fast as they can to get Lightning McQueen back out on the track. Can your pit crew measure up?
Players: 2 or more
Where to play? Indoors and outdoors
How to play
You'll need 8 "tyres" which you can make by scrunching up sheets of newspaper into balls.

---

Now you'll need a "pit stop" – you can use socks to mark out a square, then place a bin, box or container in the middle.

---

Both of you take 4 tyres each, stand on a corner of the pit stop, and try throwing a tyre into the container.

---

Then run to the next corner to throw again. Keep going around until you have thrown all 4 tyres.

---

As soon as you've thrown in 4 tyres between you, you need to run a lap of the pit stop. Then collect your tyres and try again – can you do it faster this time? You could also try making the pit stop bigger.