Whoops something went wrong
We're having troubles updating this score right now, check back later to try again.
Tasty veggie chilli recipe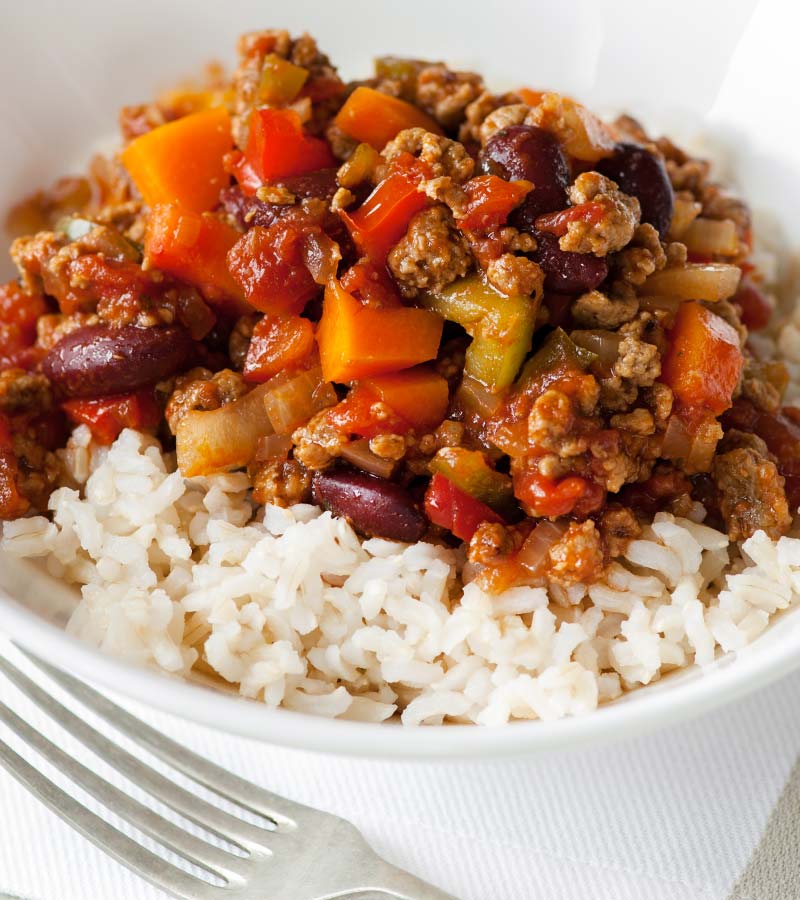 2 tsp vegetable oil
2 garlic cloves, crushed
1 red chilli, deseeded and finely chopped
300g vegetarian mince
1 tin red kidney beans, in water (420g)
1 tin chopped tomatoes (400g)
200g rice (easy-cook long grain brown rice, if possible)
Swappable or optional
1 medium onion, chopped
1 carrot, finely chopped
2 peppers, any colour, deseeded and chopped
2 tsp tomato purée (optional)
100ml reduced-salt vegetable or chicken stock (optional)
1 pinch ground black pepper (optional)
Swap tip
If you don't have all the ingredients, you can still just use the basics for a great family meal.
Nutritional information

Nutritional analysis, per serving (1/4 recipe)

1,674kJ / 400kcal
21.5g protein
70g carbohydrate, of which 16.5g sugars
5g fat, of which 1g saturates
12g fibre
386mg sodium, equivalent to 0.9g salt
Heat the vegetable oil oil in a large saucepan and add the onion. Fry gently for 2 to 3 minutes, then add the carrot, garlic, red chilli and peppers and fry for 2 to 3 more minutes, stirring often.
Add the frozen mince, beans, tomatoes, tomato purée and stock. Bring to the boil, then reduce the heat and simmer, partially covered, for 25 to 30 minutes. At the same time, put the rice on to cook in plenty of gently boiling water – it will take 25 to 30 minutes.
Season the chilli with pepper, then serve in warm bowls with the cooked, drained rice.