Whoops something went wrong
We're having troubles updating this score right now, check back later to try again.
Roasted root veg with beetroot and cucumber dips recipe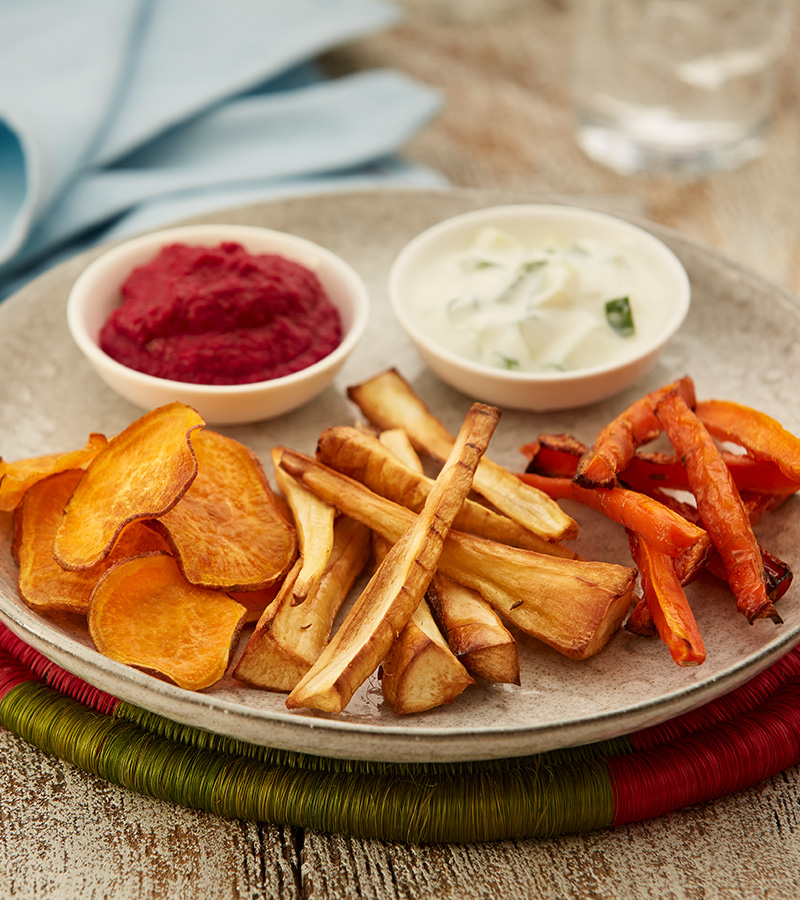 250g small carrots, trimmed, scrubbed and halved
250g small parsnips, trimmed, scrubbed and quartered
250g sweet potatoes, scrubbed and thinly sliced
1 tbsp olive oil
1 tsp cumin seeds (optional)


For the beetroot and cannellini bean dip:
100g cooked beetroot, roughly chopped
100g canned cannellini beans in water, rinsed and drained
2 tbsp low-fat, lower-sugar plain yoghurt
Freshly ground black pepper


For the cucumber dip:
50g cucumber, finely chopped
100g low-fat, lower-sugar plain yoghurt
Nutritional information

Nutritional analysis, per serving

873kJ / 208kcal
6.1g protein
31.3g carbohydrate, of which 16g sugars
4.6g fat, of which 1g saturates
8.7g fibre
120mg sodium equivalent to 0.3g salt
Preheat the oven to 200C, fan oven 180C, gas mark 6.
Put all the vegetables into a roasting tin and add the olive oil, tossing to coat. Roast for 20 minutes, then turn the vegetables over, adding the cumin seeds (if using). Roast for another 15 minutes, until tender.
While the vegetables are roasting, prepare the dips. Put the ingredients for the beetroot dip into a blender and blend for 15 to 20 seconds until smooth. For the cucumber dip, mix the cucumber and yoghurt together. Keep covered and chilled until ready to serve.