Whoops something went wrong
We're having troubles updating this score right now, check back later to try again.
Kedgeree with a kick recipe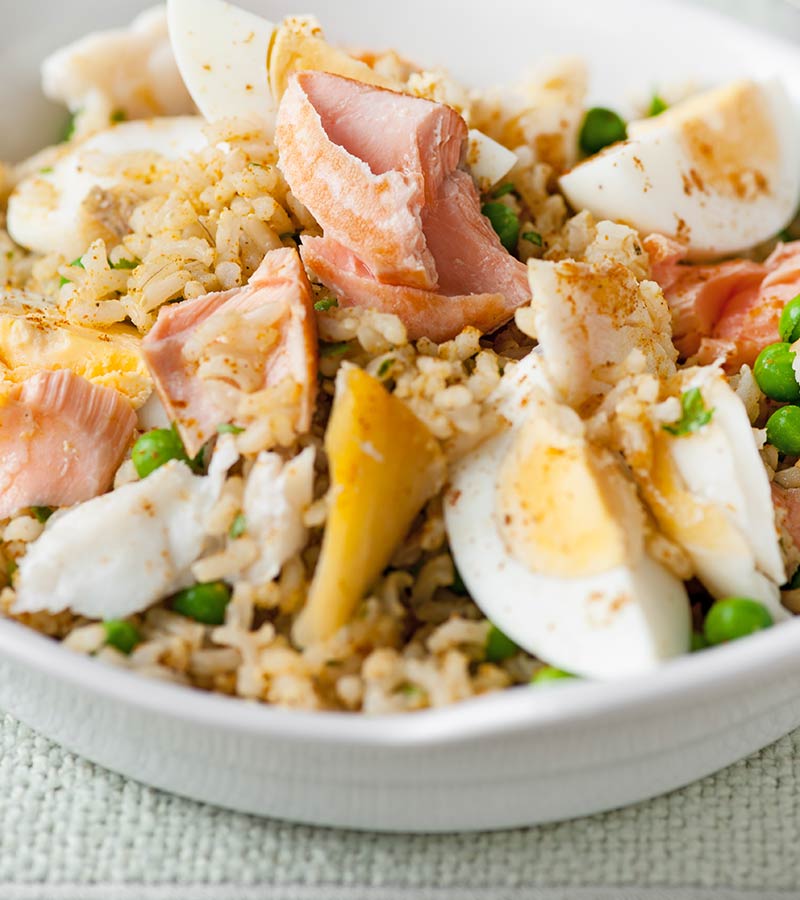 300g easy-cook white or brown rice
4 eggs
200g skinless cod fillet (or pollock), cut into chunks
120g skinless smoked haddock fillet, cut into chunks
120g skinless salmon fillet, cut into chunks
2 tsp curry powder
150g frozen peas, thawed
2 tbsp fresh parsley, chopped
1 pinch ground black pepper
Nutritional information

Nutritional analysis, per serving (1/4 recipe)

2,046kJ / 489kcal
35g protein
65g carbohydrate of which 2g sugars
12g fat of which 2.5g saturates
3.5g fibre
347mg sodium equivalent to 0.8g salt
Cook the rice in boiling water until tender, according to packet instructions. At the same time, hard-boil the eggs for 10 minutes.
Put the chunks of fish into a large frying pan and add a little water. Heat and simmer for 3 to 4 minutes until the fish is opaque. Drain.
Shell the eggs and quarter them. Drain the rice and add it to the fish with the curry powder, peas and parsley. Heat, stirring gently, for 2 to 3 minutes. Season with black pepper and serve, topped with the eggs.