Whoops something went wrong
We're having troubles updating this score right now, check back later to try again.
Good old fish 'n' chips recipe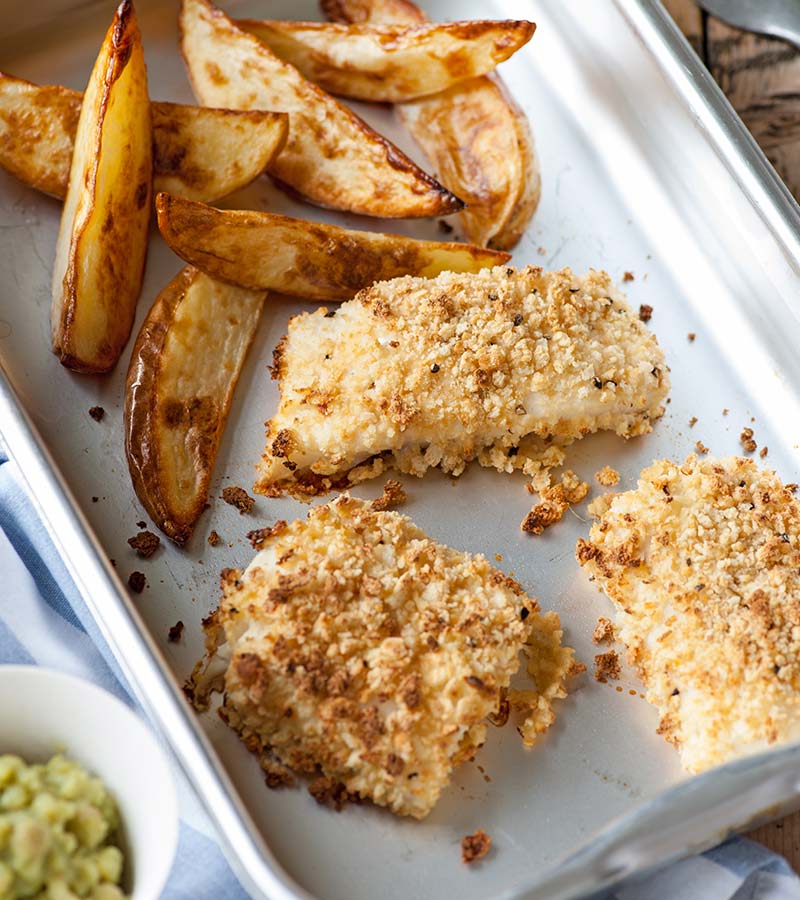 4 potatoes, scrubbed, each cut into 8 wedges
1 tbsp vegetable oil
75g dried white or wholemeal breadcrumbs
1 egg, beaten with 2 tbsp cold water
4 fillets skinless white fish, like haddock, cod or pollock
Swappable or optional
300g mushy peas
1 pinch ground black pepper (optional)
Swap tip
You can use any frozen, fresh or canned peas if you don't have mushy ones.
Nutritional information

Nutritional analysis, per serving (1/4 recipe)

1,682kJ / 402kcal
34g protein
56g carbohydrate of which 3g sugars
6g fat of which 1g saturates
4g fibre
440mg sodium equivalent to 1g salt
Preheat the oven to 200C/fan oven 180C/gas mark 6. Lightly grease a baking sheet with a little vegetable oil.
Put the potato wedges into a roasting tin. Add the remaining vegetable oil and toss to coat. Season with black pepper. Transfer to the oven to bake for 35 to 40 minutes, turning them over after 20 minutes.
Meanwhile, sprinkle the breadcrumbs onto a large plate. Season with a little pepper. Dip each fish fillet in the beaten egg, then coat in the breadcrumbs. Place on the baking sheet, then transfer to the oven when you turn the potatoes, so that it cooks for 15 to 20 minutes. To check that the fish is cooked, it should flake easily when tested with a fork.
Heat the mushy peas in a saucepan, then serve with the fish and chips.