How to play…
1
Grab a balloon and mark out a start line and a finish line.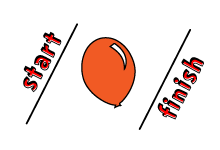 2
Sit back to back on the start line and carefully place the balloon between your backs. Use a wall if you're by yourself.
3
Shuffle to the finish line without dropping or bursting the balloon.
4
Think of different ways of holding the balloon between you. Keep going until 10 minutes is up!
Whoops something went wrong
We're having troubles updating this score right now, check back later to try again.