Squeezy-peasy lemon pancakes recipe
These zingy pancakes are a tasty option and fun to make. Just follow the 4 simple steps.
Prep: 5 mins
Cook: 15 mins
Makes 8 pancakes
Nutritional information

Per portion (2 pancakes):

823kJ / 195kcals
7.9g protein
4.8g fat, of which 1.5g saturates
29.6g carbohydrate, of which 5.7g sugars
1.3g fibre
0.2g salt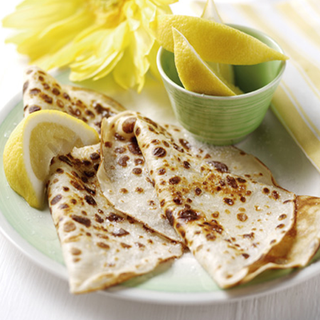 Ingredients
125g plain flour
1 large egg
300ml 1% fat milk
2 teaspoons vegetable oil
1 lemon (or orange), sliced into quarters
2 teaspoons caster sugar
Method
Put the flour, egg and milk into a large mixing bowl with 2 tablespoons of cold water. Whisk together to make a smooth, thin batter.

Information:

You can cover and chill the batter for up to 4 hours before making the pancakes. Just make sure to stir it well before cooking.

Heat a small, heavy-based non-stick frying pan and add a few drops of oil for each pancake you make. Spoon in about 3 tablespoons (or 1 ladle) of batter, tilting the pan as you add it to swirl it over the whole base.

When the underside of the pancake is cooked (about 90 seconds), flip it over to cook the other side. Carry on to make 8 thin pancakes – either serving as soon as you cook them or keeping them warm in a low-heat oven until all 8 are ready.

Serve 2 pancakes per person, topped with half a teaspoon of sugar and a lemon quarter for squeezing.

Information:

Orange juice makes a good alternative topping for variety, and children might prefer it to the sour-tasting lemon.